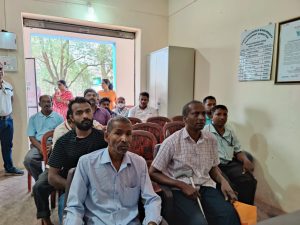 Goemkarponn Desk
PONDA: Administration at Your Doorstep programme was organised on Saturday at Khandepar however people were present but officials didn't turned thus leading to flop show. It was disappointment for people came with various problems to find solutions on it.
The people who were waiting for the officials to come to Curti-Khandepar Gram Panchayat under the Government's Administration at Doorstep programme were upset as the officials did not come. In the gram panchayat on Saturday under the initiative of administration at Your Doorstep , government officials were expected to come at 10 am and so people were present in the panchayat office.
But till 1.30 pm the officials did not turn around. The villagers had to be disappointed as there was no information about whether they would come or not.
Meanwhile, after giving one officer the charge of four to five panchayats, the question arose from the gathered public that how the officer would be able to reach in time and how much time would he be able to give to the people.
The officials were to visit the panchayats from 10 am to 1 pm. So in how many panchayats will they meet in these three hours? Also, there was a feeling of displeasure that the public had been cheated because the officials did not come on time.
Comment