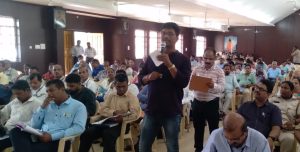 Job requests, basic facilities, Tourist harassments by traffic police, pending requests made in last 3 Janta Durbars, dilapidated buildings, amongst the issues raised
Goemkarponn desk
CANACONA: While citizens bombarded several new and old issues at the 4th Janta Darbar held in Canacona, Fishermen Minister Nilakant Halarnkar holding the Swayampoorn-Mitra responsible told the government officials in clear terms that issues raised by citizens in this Darbar should be solved/addressed with priority so as these
(same) issues/matters are not raised again in next Janta Darbar.
Fisheries Minister Nilkant Halrankar on realizing that some of the issues raised in the last Janta Darbar with Minister Nilesh Cabral were still not be resolved, ordered the government officials to immediately resolve the issues being raised at the 4th Janata Durbar held on Monday in the auditorium of Government Higher Secondary School, Canacona.
Besides, Halarnkar, Canacona Municipal Council Chairperson Ramakant Naikgaunkar, Additional Collector Deepak Desai, Deputy Collector of Canacona Ramesh Gaonkar were present on the platform when people began to raise issues.

'India is the diverse country with the largest population and while saying that it is the wealth of our country, this wealth should be used for the betterment of our country. The government of Bharatiya Janata Party is working for the development of the country. In Goa, Chief Minister Dr. Pramod Sawant is working on the principle of empowerment and he is doing his best and working hard to eradicate the sufferings of the poor' Halarnkar said in his initial address.
'The task of solving the problems of the citizens or conveying the problems of the citizens to the government is the work of Swayampoorna Mitra', informed Harlankar. While the public raised their problems, CMC Chairperson Ramakant Naikgaonkar, khotigao Sarpanch Anandu Desai, Khola Sarpanch Krishna Velip, Senior BJP leaders of Canaocna/workers and former Shristhal Sarpanch Pandurang Gaonkar raised various problems.
CMC Chairperson Ramakant Naikgaonkar blamed traffic police for tourists harassments, informing that the traffic Police stays in every nook and corner to issue challans. Is the job of the police only to issue challans and collect fines? With so much harassment, tourists don't like to come to Goa, particularly Canacona. Naikgaonkar slso demanded that Canacona Fire Services should be provided with an additional Fire-Tender.
Khotigao Sarpanch Anandu Desai said that there is a problem of water in Khotigao panchayat area and PWD should properly treat/purify the Well water before supplied to the public
Ex-Sarpanch (Shristhal) Pandurang Gaonkar informed that Bhandaras at Vaijawada and Asali were washed away in floods two years ago. 'We had demanded its renewal in the last three Janata Durbars. This could have been done under the ST subplane, but the Water Resources Department didn't give any attention to it. Even though I myself am a worker of Tribal Community and a forefront BJP worker, this work has not been done as yet', Pandurang Gaonkar.
Khola Sarpanch Krishna Velip raised the issue of not getting water to the areas from Kudai to Kazumal areas, and the concerned department is not doing anything worthwhile. Since a large number of tourists come to Khola, particularly on Saturdays and Sunday's, the Canacona and Cuncolim Police should find a solution. Milan Desai said that police patrolling should be done at Mastimoll to maintain. Sushmita Lolyekar said that there is a problem of roads and water in Dhupemol and that problem should be solved.
Farmer Meghnath Naikgaonkar said that the grant from the Agriculture Department was not received on time and informed that he had raised this issue with Minister Nilesh Cabral when he had come earlier on March 17.
Chaudi resident Shankar Naik said that there are five dangerous buildings in Canacona and the concerned authorities are not taking any action deemed fit. Shantaji NaikGaonkar suggested that the social welfare department should provide information about the scheme for senior citizens and also do something to curb the menace of stray cattle and dogs.
Senior Citizen Natavidade De Sa demanded that the basic facilities like electricity, water and roads should be provided to the people in the best manner.
'If agricultural produce is brought from outside the state, it is available at an affordable price. But if it is taken from the contractor appointed by the Government of Goa, it has to be taken at an expensive price', farmer Prasad Velip complained and demanded that while bringing cows, people are forced to buy them only from the contractor appointed by the government at high costs. One Vitap demanded that the sewage and sludge accumulated in the Khusavati river from Khotigao to Partagal should be removed. Another person demanded cleaning of a drain from Chawdi Mamlatdar office to Ponsulem. One Padnam Shenvi demanded that her son be given a job.
Rudresh Namshikar stated that Talpona Jetty has not been renovated since 1988, the silt accumulated in the river has not been removed, several ministers have inspected but the river bed has not been cleared still, LEDs are installed everywhere in the country. Fishing with banned lights though illegal is still going on in full swing in Goa and action should be taken against such persons. Rudresh Namshikar and Akhil Goa khestriya Pagi Samaj President Diwakar Pagi Yani demanded increase in subsidy on petrol for fishermen.
Stating that Birth and Death registrations of the elders are in Portuguese language, the present day officials do not understand the language,Anil Naikgaonkar informed it makes difficult to several people to get the needed certificates, we wants and solution to this ', Premanand Vithoba Bandekar, Sandesh Naik raised similar concern.
BJP's South Goa General Secretary Sarvananda Bhagat suggested that the government officials should show seriousness regarding the people's issues, while Canacona BJP mandal President Vishal Desai, presented some suggestions.
At the beginning Deputy Collector Ramesh Gaonkar in the presence of Mamlatdar Manoj Korgaonkar welcomed, while the Janta Darbar was moderated by Pramod Naik Gaonkar
Comment