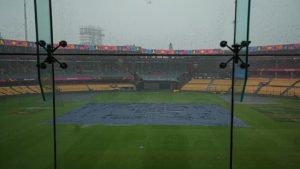 With parts of Bengaluru under yellow alert till November 10, there are high chances that the NZ vs SL World Cup 2023 match could be rain-affected.
With parts of Bengaluru under yellow alert till November 10, there are high chances that the World Cup 2023 match between New Zealand and Sri Lanka at the Chinnaswamy Stadium could be rain-affected. In the worst-case scenario, there could be a washout as there are about four thunderstorms predicted throughout the course of the day. The city has witnessed heavy rainfall in the last four-five days prompting the MET department to issue a yellow alert from Monday. Notably, a yellow alert is issued when the rainfall is between 64.5 mm and 115. 5 mm in a day.
Parts of Bengaluru reported flooding since Monday and there was waterlogging in many areas. Although the situation was slightly better on Wednesday, the forecast for Thursday is not that bright.
The Chinnaswamy Stadium has one of the best drainage facilities among all cricket venues in the country. It can be ready for action within half an hour of rainfall but if the showers are relentless and heavy then it might be difficult to get a game. In case, there is a washout, there will be significant consequences as far as the World Cup points table is concerned.
What happens if NZ vs SL is a washout?
Both New Zealand and Sri Lanka will share points. New Zealand will be stuck with 9 points while Sri Lanka will trod to 5. The latter has no chance of making it to the World Cup semi-finals but a rain washout would severely dent New Zealand's chances of qualifying as the fourth-ranked side. The Kane Williamson-led side started off the tournament with four wins in a row but ended up losing as many after that. They desperately need to win against Sri Lanka to reach 10 points.
A rain washout in NZ vs SL, however, would provide a golden opportunity for Pakistan to sneak into the semi-finals. Pakistan currently have 8 points in 8 matches and they face England on Sunday. If they beat the defending champions, who are already out of the tournament, then they would qualify for the semi-finals.
Afghanistan too have a chance if they beat South Africa but their net run rate can become an issue and even if they better it by beating the Proteas by a huge margin, Pakistan would have the advantage of knowing the exact equation as their match against England is later.
Following two days' of unwinding in Kolkata, the Pakistani players had a three-hour long practice session in the afternoon focussing on all the three departments of the game.
Shadab started rolling his arm for the first time after their match against South Africa in which he was ruled out due to concussion. The 25-year-old had an awkward fall while fielding and was hit on his head. He had to be replaced by rookie leg-spinner Usama Mir as a concussion substitute and then went on to miss their last two matches against Bangladesh and New Zealand.
Shadab bowled with full intent and was also seen batting at the nets.
Babar's inconsistency has been a bit of a letdown for Pakistan in the batting department. He has four half-centuries from eight innings and not once the No. 3 batter has been able to convert it into a triple-digit score. Babar also has lost his No. 1 ODI batter ranking.
Due for a big knock, Babar was the last to pad up but was seen spending the maximum time at the nets, especially against their pace sensation Shaheen Shah Afridi.
He also employed sweep shots to the spinners to counter the likes of Adil Rashid and Moeen Ali in spin-friendly Eden conditions.
Pacer Haris Rauf, who had an injury scare on his left rib and went for an MRI, was also seen in full flow.
Comment