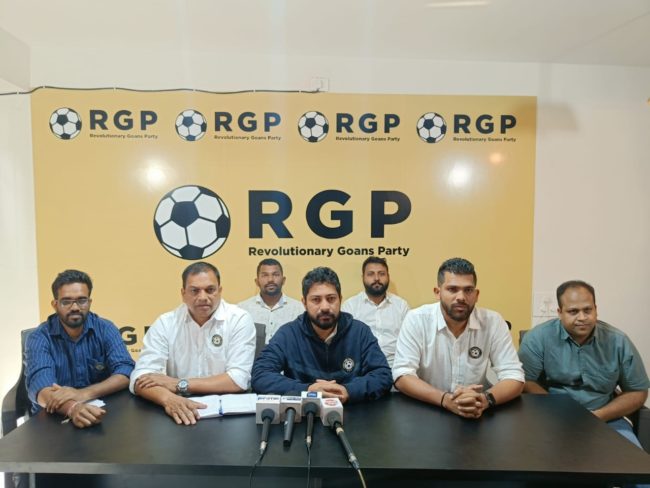 Goemkarponn desk
PANAJI: The Revolutionary Goans Party on Thursday hit back at the leadership of the Goa Su-Raj party, accusing them of spreading lies and falsehoods over their short and acrimonious relationship over the last few months as well as trying to demoralize the fledgling party ahead of the elections.
Reacting to the accusations levelled against them on Wednesday, RGP chief Manoj Parab recalled the party's decision to associate with the Goa Su-raj party but said that the GSRP leadership began dictating terms to the Revolutionary Goans, which was against the initial agreement that GSRP would be 'gifting the GSRP party to the Revolutionary Goans.
"When we first associated with GSRP, it was because the GSRP president Inacio Vas called us over and offered us the party for us to run ahead of the elections with the promise that they would not be interfering in the process. It soon descended to him dictating terms to us, saying that we should not field a candidate against Capt. Viriato Fernandes of the Congress should change our declared candidate in Navelim, Bento," party leader Viresh Borkar said.
Responding to the allegations that they backstabbed the GSRP, RGP chief Manoj Parab said that they had decided to come together only because they were facing pressure from their supporters and people to begin campaigning ahead of the elections and needed a party and symbol to begin their campaign.
"At no point in time did we show any disrespect to the members of the GSRP because, at the end of the day, it was their party. Whatever we did, including declaring the names of candidates, was by taking them into confidence, and the signs of the president of the GSRP Inacio Vas are there on the lists that we have declared so far," Parab said.
"Even when we decided to go separate ways after our party was registered and the symbol granted to us, it went forward only after the party leader Floriano Lobo gave us the go-ahead and after specifically taking his permission to do so," Parab said.
The Revolutionary Goans termed the allegations levelled against them as shocking and out of the blue simply because they were devoid of reality and solely to sully the party's name ahead of the elections.
The party also denied allegations of financial misappropriation, saying that, on the contrary, the party members have quit their jobs and invested their own money to push the party forward, often investing their savings besides time in the party.
"I have taken VRS from my bank job, and Manoj has left behind this tank business to fight for Goa and Goans and to take this party forward," said Vishvesh Naik.
Comment