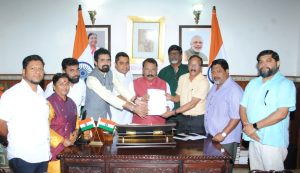 Goemkarponn desk
DONA PAULA: Save Mhadei, Save Goa Front delegation today met Goa Governor P.S. Sreedharan Pillai seeking his urgent intervention in the Mhadei Water Dispute Issue.
The Save Mhadei, Save Goa Front delegation also asked the Goa Governor to bring a solution to the Mhadei River Dispute case in favour of Goa.
"We had passed some resolutions in our last public meeting on January 16. We have submitted the copy of resolutions to the Governor and have urged him to convey the same to the President of India," said Prashant Naik.
He further informed that they had a detailed chat on the issue of Mhadei on what the state government can do or the centre can intervene in the matter.
The delegation also submitted a memorandum and unanimous resolution passed on Opinion Poll Day with thousands of signatures asking for immediate withdrawal of DPR approved to divert Mhadei.
Governor has heard us and said he would take up the matter with concerned authorities and convey the sentiments of Goans, said Save Mhadei Save Goa Movement Leader Prashant Naik.
Front convenor Prajal Sakhardande informed that in all villages of all talukas, there will be corner meetings so that there is the involvement of the people in the Mhadei movement.
"A related case filed by the Mhadei Bachao Abhiyan before the Supreme Court is on a strong footing, and now there is a need to strengthen the people's movement in the state so as to ensure that the water of this river continues to flow into Goa," said Sakhardande.
Advocate Hrudaynath Shirodkar said that there are several things that could be improved in the approvals granted by the Central government to the detailed project report.
He also said that the Karnataka government has wrongly claimed that the project is a drinking water project while it is, in fact, an irrigation project.
"The movement will be voluntary and non-violent, as the organisers did not want to cause any inconvenience to people,' he added.
Shirodkar said that the Goa bandh has also been proposed by the SMSGF.
"However, this Goa bandh will not be like the violent bandhs generally seen in Karnataka," he added, pointing out that the Goa bandh will be peaceful, wherein all the people will voluntarily stay at home.
Comment