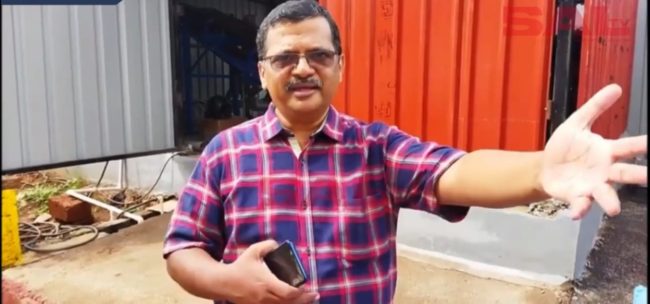 Goemkarponn desk
Margao: "Was it a case of laying the Cart before the Horse?, questions the SCM on Bio-Methanation plant at SGPDA market.As it will be *one month on 4th December, since the 5TPD capacity Bio Methanation plant was commissioned with much fanfare, the plant is yet to be fully operational upto its specified capacity, states SCM Convener Savio Coutinho.
"We are indeed horrified to learn that the Commissioned plant is yet to be given the power supply of 20KV as required for its operations. According to information provided to us, the plant is still running on the 3 phase temporary connection given at the time of the commencement of construction, while the plant required 20KVA supply to operate the plant fully," he said.
He said that while it was expected that almost all the organic waste generated at the SGPDA market would be scientifically treated at the plant, we find huge quantity of this waste making it's way to the Sonsodo plant, adding to the woes there, Coutinho lamented. The plant is supplied with only around 1.5 tonnes of vegetable waste, while the balance vegetable waste and the entire fish waste is taken and dumped at the "non-functional plant" at Sonsodo.
Coutinho cautioned the authorities that such lapses on the part of the Council; of not providing the mandatory and essential support, shall give sufficient enough ammunition for an arbitration matter in the event the plant failed for whatsoever reasons.
The Council is already in a legal battle with the Fomento over their claims of over 35 crores additional compensation. Even after the Council has already shelled out over 12 crores to the company, hardly any changes were seen at Sonsodo prior to their exit. And inspite of this fact the Council appears to be at a loss of legal options to defend the arbitration matter in the court, hence our authorities need to administer caution by all means.
SCM expressed apprehensions and did not rule out attempts of certain lobbies trying to sabotage the operations of this plant so as to make way for the setting up of the double priced Bio Methanation plants which were earlier sought to be brought through a dubious scheme of the previous Council. "Now, with the same dispensation in control of the new Council, there is every possibility of this to happen", Mr. Coutinho feared. Sometimes we wonder whether the ruling state government is also in partnership with such nefarious activities at the cost and expenses of the public exchequer, Coutinho stated further.
"SCM is constantly watching the activities of the Margao Municipal Council and firmly stated that they shall not shy away to take legal course of action in the event public funds are played with, SCM warned.
Comment