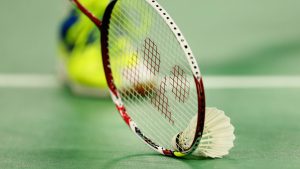 Goemkarponn desk
PANAJI: The Goa Badminton Association (GBA) has responded to recent complaints of three players (Floyd Araujo, Aryaman Saraf and Yash Halarnkar) in the selection of players for the upcoming 37th National Games, and clarify the rationale behind our selection process.
"First and foremost, the 37th National Games are a matter of great pride for all of us in Goa. We understand the significance of this event, and it is our collective goal to ensure that Goa's performance is held in high esteem," said a statement released by GBA here.
It said the recent criticism alleging unfair selection processes, specifically concerning the inclusion of outstation players alongside local talent, is not accurate.
"We want to emphasize that the decision to have a 70-30 ratio in favor of Goan players was unanimously taken during the Sports Authority of Goa (SAG) meeting in March. This policy aims to strike a balance between giving opportunities to Goan athletes and putting up a strong or significant performance at the Games," it stated.
It's important to note that the SAG General Body, under the leadership of the Honourable Chief Minister and Sports Minister, wholeheartedly approved the 70-30 ratio, demonstrating its commitment to enhancing the quality of the teams representing Goa, GBA clarified.
"The conscious decision to include outstation players aligns with the Sports Authority of Goa guidelines and is not a new practice. Goa has previously adopted this approach even at the Lusofonia Games, to ensure Goa's teams perform competitively. The matter went up to the Hon. High Court of Bombay at Goa, which too endorsed the Goa Government policy," GBA says.
Regarding the transfer of players, GBA said, it strictly followed the Transfer Policy of the Badminton Association of India and obtained the necessary No Objection Certificates (NOCs) from their respective states.
"While we may not have won medals in the event, the addition of outstation players undoubtedly improved the quality of our teams, as reflected in our results, where our women's team lost the bronze medal match to Punjab with a slender 3-2 margin, and Men produced respectable results against strong teams such as Maharashtra and Assam," it said.
"It is important to clarify that outstation players as well as some of Goa's own players such as Anura Prabhu Desai and Pranjal Chimulkar, did train either in Goa or at outstation academies, again in line with SAG policy and guidelines for the National Games. Thus, the claims made that outstation players did not train at all, is grossly inaccurate," it said.
GBA says the inclusion of outstation players is not unique to badminton or to the National Games.
"In fact, even in games such as football and cricket, both of which have a vast pool of talent and resources available, outstation players have been included alongside local players, to enhance the overall quality," it says.
Teams like FC Goa, Dempo, Churchill Brothers, or Sporting have included outstation players, and even foreigners, to boost their squads, and such inclusion has benefited the local talents as well, GBA said.
It's crucial to remember that at the last National Games in Gujarat, three out of the five medalists were outstation players who had transferred to Goa. This demonstrates that such an approach can enhance the performance of Goa's teams.
"We understand that there may be personal disappointments among those not selected, but all players were informed about the selection rules in advance. At the camp, players were competing intensely to qualify, and many personal sacrifices were made by those who were selected, whereas those not selected missed many of the camp sessions. The final selections were made to ensure fairness and the best possible representation of Goa," it said.
All our players are near and dear to us and merit and dedication is all that counts, when one has to make the final call. At various Zonal or National events, we consciously try to include maximum players in our squad as compared to other States which have gone with lesser number of players, thus indicating we have the best interest of our players in mind, GBA said.
In conclusion, the Goa Badminton Association said it remains dedicated to promoting and enhancing the sport of badminton in Goa and representing the state at the highest level of competition. The selection process for the 37th National Games has been transparent and fair, with the sole objective of achieving the best results for our state.
All decisions taken all through the process have purely been with the best intentions. Such issues may arise in other sports disciplines also, but keeping this aside, we urge all athletes to collectively root for Goa at the Games, it said.
Comment