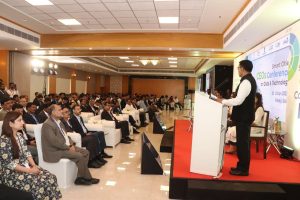 Goemkarponn desk
PANAJI: The Ministry of Housing and Urban Affairs (MoHUA), Government of India, in coordination with Imagine Panaji Smart City Development Ltd (IPSCDL), is organizing a two-day "Smart Cities CEOs Conference on Data and Technology" in Panaji.
The conference, which includes CEOs/Municipal Commissioners of 100 Smart Cities along with officials from the Central, State government, Industry and knowledge partners, is being hosted by Imagine Panaji Smart City Development Ltd and is scheduled for 23-24 January 2023. During the conference, more than 200 delegates will deliberate on creating operating procedures and business plans to ensure the sustainability of their Integrated Command and Control Centres (ICCCs).
Further, the delegates will also be taken through a session on undertaking 'Change Management', particularly in the context of challenges being faced by officials in addressing urban issues.
The first day of the conference saw the inauguration by the Chief Minister of Goa, Dr. Pramod Sawant in the presence of Rohit Monserrate, Mayor, Corporation of City of Panaji, Kunal Kumar, Joint Secretary and Mission Director and senior officers of the Centre and State Government. Smart City CEOs/officials presented the Business Plans and the Standard Operation Procedures of their ICCCs.
The objective of the conference is to enable peer learning and the exchange of ideas that leads to the development of these best practices across all Smart Cities.
The conference also saw discussions on the 'SmartProcure' guidelines for procurement of innovation, wherein officials from Smart Cities of Shimla, Bhopal and Ahmedabad shared their success stories. Further, at this crucial turn into the eighth year of the Mission, the topic of Sustenance of Smart City SPVs beyond the Mission period is also being discussed with the CEOs to help them plan the future of their organizations. In closing, MoHUA will announce the ICCC Awards to reward the most innovative and outstanding efforts of cities in creating maximum impact through their ICCCs.
"There is a need for all cities to identify long-term revenue models based on the infrastructure that is being created under the Smart Cities Mission. This will ensure the self-sustainability of all Smart Cities once the Mission has concluded and help fund future endeavours of the SPVs." — Dr Pramod Sawant, Hon'ble Chief Minister of Goa "It's time to start thinking out of the box, be innovative and entrepreneurial. It's time to drive this fancy car on your own and decide its destination instead of being driven. The same goes for the future of SPVs. As SPVs, you are the most professionalized arms of municipal corporations." — Kunal Kumar, Mission Director, Smart Cities Mission "The various projects– ICCC, Electric Buses, Mandovi Promenade, Campal Ground, Water Supply & Electricity works with SCADA component– taken up under the Mission have great scope for revenue generation. These can be monetized as an additional revenue source for the City."
Smt Mamu Hage, CEO, IPSCDL said.
Comment