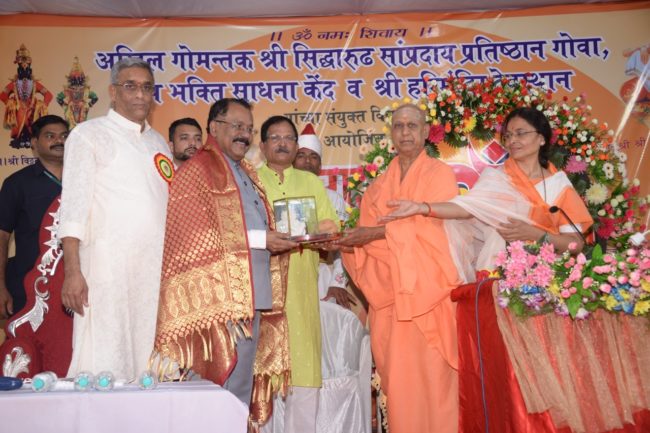 Goemkarponn desk
PANAJI: Spirituality is the greatest contribution from India to the world, said Governor P S Sreedharan Pillai. "In a democratic system, Government is everything, but Dharma was the supreme, and no one was superior then Dharma was our country's original concept," he said.
He added, If Dharma is there, there is no need for a king – this is a real concept. Dharma is superior – meaning people are superior. Dharma is still supreme if we respect it properly.
He was speaking after inaugurating the second day of three day satsang programme jointly organised by Akhil Gomantak Sri Siddharudh Sampraday Pratishthan, Goa Prem Bhakti Sadhana Kendra and Shri Hari Mandir Devsathan at Pajifond Margao, yesterday.
After felicitation by Sri Sri Sri Dr Shivkumar Mahaswamiji, Bidar Karnataka, Governor, Shri Pillai said, Swamiji's blessings are a permanent investment in my mind. "Spiritual leaders are a real asset to our country. Spiritual leaders are the representatives of Dharma, and they have dedicated their lives to maintaining Dharma in the country. Siddharth Pratishthan promotes spirituality and equality among the mass community," he remarked.
Governor said, "We all are servants of the people. When one decides to be a public servant, that person is bound to serve the people and is the servant of the people. Raj Bhavans discretionary fund is used for helping dialysis patients in the State. The number of beneficiaries which was 71 earlier, has now reached 310."
He said he would write about Goa's rich villages.
"Goa is a beautiful place. Tourists mostly come to see beaches, and they enjoy it. I don't want to say that it restricts the enjoyment of the tourists but at the same time preserves the speciality, culture, tradition and credibility of Goa. I have covered around 100 villages, and Goan villages are more beautiful,
he opined.
In his welcome speech, Union Tourism Minister for State and Pratishthan Chairman, Shripad Naik said the Governor understands the common people's lives and their problems.
Power Minister, Sudin Dhavlikar; Social Welfare Minister, Subhash Phaldessai; MLA, Vijay Sardessai; President, Hari Mandir, Suhas Kamat; President, Prem Bhakti Sadhana Kendra, Smt Manisha Didi were present on the occasion.
Dr Shivkumar Mahaswamiji spiritual awakening and discourse were held on the occasion. Governor also felicitated Dr Shivkumar Swamiji.
Sharmad Raiturkar proposed a vote of thanks. Dr Dayanand Rao compared.
Comment