Sr. Citizens Committee and NGO Goenkar felicitated Brave Warriors of Canacona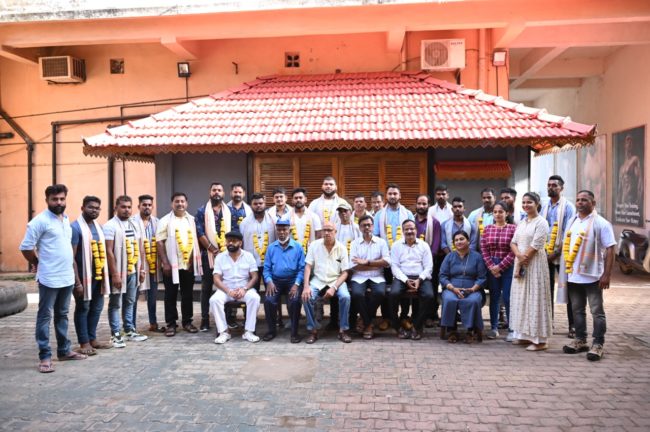 Goemkarponn desk
CANACONA – Stating the youths of Canacona are devoted to working selflessly for the betterment and
development of Canacona, Canacona Senior Citizens Committee and Goenkar (NGO) felicitated several youths of Canacona for bravely taking on the authorities for the betterment and development of the Taluka.
Canacona taluka is a backward taluka and still waiting for overall development in the true sense. But the brave, fearless youths of Canacona are devoted to working selflessly for the betterment and development and had successfully fought for various issues related to Canacona for last several years, like
the improvement of NH66 from Polem to Canacona till Margao, Manohar Parrikar Canacona
Bypass Road, development of internal roads of Canacona. They never hesitated/feared to
gherao any official for development of Canacona and even went to Margao, Panaji to meet
government officials of various departments. They even went to PWD Head Office, Panaji, with
mat, bedsheets, utensils, and groceries during the famous "MAT MARCH", which resulted in the immediate issue of short tender notice for hot-mixing of NH66 from Margao to Polem-Canacona.
Apart from this, they were also at the forefront of providing relief works to Canaconakars during the COVID-19 pandemic. JANA SENA warriors worked tirelessly to provide oxygen cylinders, PPE Kit, oximeters, and groceries to covid affected people.
Without fearing for their lives, these warriors even worked hard to provide "Ambulance Service" to covid affected people, and the general public informed Goenkar General Secretary Vikas Bhagat.
About 40, mostly youths who have participated in fighting for the development of Canacona, including the Congress Canacona block president Prahlay Bhagat, Youth Congress President Vaishnav Pednekar, and Minority Cell president (Canacona) Gaspar Coutinho, Mahila Congress president Urshila D'Costa, congress Spokesperson Pallavi Bhagat, amongst others.
Vaishali Pagi, Manesh Desai, Shankar Naik, Ajay Pagi, Ratnakar Goankar, Pritam Pagi, Rubetin Fernandes, Sagar Pednekar, Suraj Pagi, Jayesh Naik, Sandeep Goankar, Chetan Bandhari, Navraj Mudgulkar, Jai Pagi, Sahil Pagi, Sahil Komarpant, Harish Rajput, Ganadish Pagi, Queency Fernandes, Nandesh Naik, Cleston Vegas, Ritik Madgaonkar, Sidharth Gayak, Rony Fernandes, Virendra Naik, Kiran Zore, Fleming Fernandes , Pranay Pagi, Jayesh Pagi, Bunty Gosavi, Mahesh Naik, Santosh Sudir, Ravi Naik, Atlee Fernandes, Rakshanda Madgaonkar,were the other felicities.
Present were Goenkar NGO president Jack Fernandez, Founder Members – Kedar vaidya – General Secretary Vikas Bhagat, President of Senior Citizen Committee Canacona Natvidade -De Sa, Founder member of senior citizen committee Canacona Anil Bhagat – President of Nirakar High School Mashem -@Prashant Naik and
Founder and Chief of Janasena Goa Janardhan Bhandari.
Goenkar President Jack Fernandes and Sr. Citizens Forum Committee President Nativadade De Sa said,' appraising and honouring their services had expressed their hope that this felicitation would inspire other youths of Canacona to join and participate in social work for the betterment of Canacona.
Comment