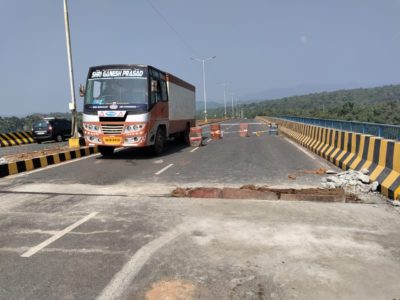 Goemkarponn desk
CANACONA: The twin bridges on the 7.7 Km Manohar Parrikar Canacona Bypass Road (MPCBR) have now managed to garner attention for wrong reasons recently. These two newly inaugurated state of the art bridges from Canacona, which were supposed to be the iconic bridges, have started to develop some damages while the state government boasts MPCBR is an engineering marvel worth around 297 Crores.
Locals from the Maxem, Galgibag areas pointed out that the work of these bridges and the road stretch joining is of sub-standard quality. These two bridges are ongoing repair works presently, and the motorists, locals are disappointed looking at these bridges' sorry state of affairs.
Seby Barreto, a local from Galgibag village, said that the joint between the two spans has opened up on the western side of the Galgibag bridge, and the metallic rods are visible and are out, which are dangerous.
PWD also hired a contractor to repair this road after people raised this issue.
Incidentally, the railings of this bridge which was supposed to have an anti-corrosion substance, began to rust too early, which is also happening with the Talpona bridge. There was also re-applying of anti-corrosion paints for the second time since the road was inaugurated two years ago.
A jogging track on either side of the bridge, which people use for mornings walk, has also exposed steel roads which may cause accidents to the commuters.
The case is no different regarding the Talpona bridge, a victim of substandard work.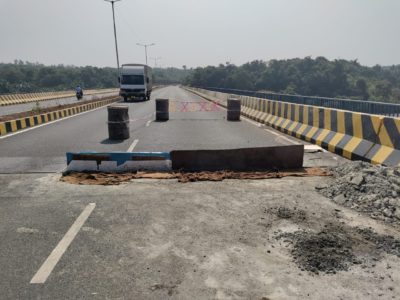 While passing from this bridge stretch, one could easily notice wide cracks at the joining stretch of this bridge. Recently, this bridge was taken up for repair work. Further, the road stretch of 7.7 km MPCBR is plagued with the uneven road, giving the commuters a bitter experience of a bumpy ride. Due to the sub-standard works and use of low-quality materials, the road is falling apart too early, while bridges are being seen as unsafe.
The Four Lane (two lanes on either sides) MPCBR from Char-rasta to Maxem has generated a huge impact on the government's development, also has a picturesque bird-eye view almost depicting a Sea-link road passing coastal Canacona taluka.
While political opposition parties have alleged a scam in Road and Bridges Construction, the government boasts MPCBR is an engineering marvel worth around 297 Crores.
Comment