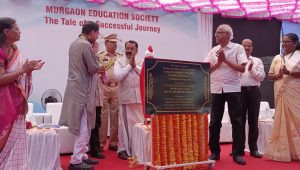 Goemkarponnd esk
VASCO: "The Tale of the successful journey ", a book authored by Murgaon Education Society (MES) College chairman, M S Kamat, was launched at the hands of Goa Governor P S Sreedharan Pillai at a grand function organised in the MES College campus on Thursday afternoon.
The Governor, also the Chancellor of Goa University, unveiled the Plaque renaming the college as MES Vasant Joshi College of Arts and Commerce.
Renowned author Damodar Mauzo, M S Kamat and industrialists Suvarn and Seema Bandekar were felicitated at the hands of the Governor during the program.
Governor Shreedharan Pillai speaking on occasion, said that it was time to take steps to strengthen the Konkani Language that was being spoken in other states besides Goa as it's the mother tongue.
"The MES College had requested me to come here and even postponed the event for a few hours due to my busy schedule, and this is why I have come here as the chief guest. The MES College is now being renamed and put the name of the person who gave everything to this institution that has been imparting education for over 50 years, and I declare that this institution will now on be declared as MES Vasant Joshi College of Arts and Commerce and I extend all my support to this institution especially because many of the students have gone to great heights and worked for the service of the people while many persons are on the way towards great achievements making it one of the best institutions of Goa," said Pillai.
"As the chancellor of Goa University, I feel that institutions must protect the interest of the local people and the local language should be given maximum importance. In 1956, there was an amendment to the constitution where an additional provision of 354 A was added, stipulating that India should give maximum importance and priority to the mother tongue. As far as Konkani Language is concerned, I went through various aspects, and I found that my native state in Kerala has more than 1.5 lakh people who have Konkani as their mother tongue, and they talk in Konkani in their homes," he said.
he added, "I also realised that Karnataka and parts of Maharashtra also have lakhs of people speaking Konkani as their mother tongue. There is wider acceptance of Konkani in more than three to four states, but though I cannot say much as the Governor, I can only say that Konkani Language is not getting it's deserved share in the language arena. I asked other universities to start promoting Konkani Language in Mangalore Karnataka and Cochin Kerala, and i am happy to say that Konkani institutes will start in Mangalore and Cochin," said Pillai
Paresh Joshi of the MES College, Author Damodar Mauzo and chairman M S Kamat also addressed the gathering during the function.
Comment