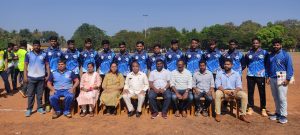 Goemkarponn desk
PANAJI: Goa Tennis Ball Cricket Association will depute has selected the following players who will represent Goa A team for the 13th Inter State Tennis Ball Cricket championship to be held at Pokhara, Nepal from 29th December 2022 to 2nd January 2022.
1. Shreyash Naik, 2. Vishal Phutanekar, 3. Omkar Hodge
4. Kunal Samant, 5. Ganesh Marathe, 6. Shanal Pednekar
7. Laxman Naik, 8. Vijay Lambor, 9. Dinesh Varak, 10. Vishwajeet Devidas, 11. Niraj Sawant, 12. Atmaram Palkar.
The team will be accompanied by Ajinkya Naik as Coach and Swapnil Kunkolikar as Manager.
The teams were finalised based on the coaching Camp held at Ponda & Panaji from 15th December 2022.
The above team were accorded farewell today, i.e. on 25th December 2022 at 11am at Shiroda Goa in the presence of Shri. Subhash Shirodkar, Hon. Minister for WRD, Govt of Goa & others including Nitin Naik, Kirtan Vaiz, Ramdas Varak, Sandip Navik (All Convenors), Coach & Manager of the participating team.
Comment