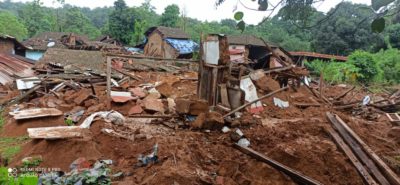 Goemkarponn desk
VALPOI: They came, they saw and went back, never to return. This is the story of the government officials and politicians who visited the Sattari taluka post-July 23, 24 flash floods.
Government officials visited the flood-hit area and assured that the flood victims would receive compensation within few days.
It has almost been a fortnight since the tragic event, but there has been no help coming from the government.
Health Minister Vishwajit Rane, the local MLA, travelled through the taluka – which can be termed as a photo op, as he took along media even when he went in boats to some flooded areas.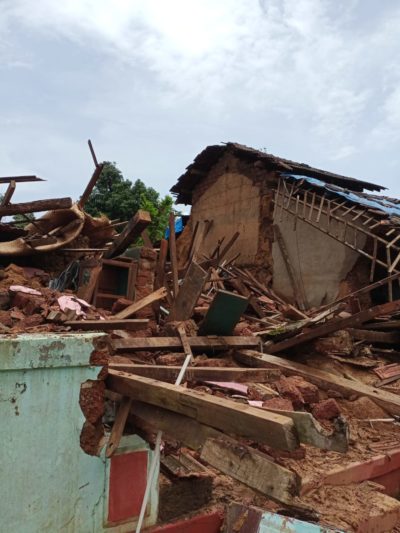 But despite being a minister and making tall promises, he has failed to give justice to the people.
The government continues to create the impression that everything is normal.
Many houses collapsed, and families became homeless. In these heavy monsoons, they have no shelter, no roof above.
The damage due to flash floods is estimated to be around Rs 5 crore. Locals say around 100 houses have been damaged in the floods, besides agriculture and horticulture have suffered huge losses.
The Collector and the Chief Secretary of the State visited the area and inspected the overall situation.
They announced that they would seek immediate relief from the government given the situation in the area and the problems faced by many.
However, almost a fortnight, not a single rupee has fallen on the hands of the flood victims.
Where is disaster management?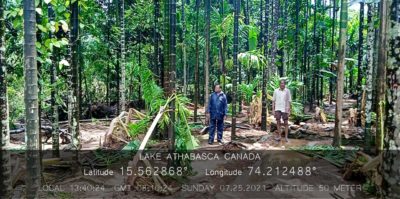 Disaster management in the State itself seems to be a disaster as they do not know what the duties or responsibilities are.
The Disaster Management has expedited the assistance and sought immediate relief from the government in a financial package for Sattari, which could be a State disaster.
Locals ask where the Disaster Management funds are?
Several houses have been damaged, but no rehabilitation has been done so far. The Panchayat has arranged only the family of Harijan brothers at Khadki in the Khotoda Panchayat area in a nearby primary school building. Some families are seen living in neighbouring houses as their accommodation has not been arranged yet.
Comment