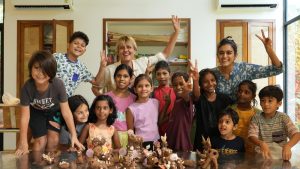 Children's Art Studio, an initiative of Museum of Goa and co-founded by Sharada Kerkar, aims to meld creativity with education in order to facilitate holistic development in children, and the upcoming free-of-charge Children's Day workshop offers this experience to 25 lucky children
Panaji: The seed of creativity is best nurtured young to allow for a fruitful flourish. The Children's Art Studio (CAS) located at the Museum of Goa (MOG) in Pilerne, does just that, offering an accessible space to youngsters for creative exploration.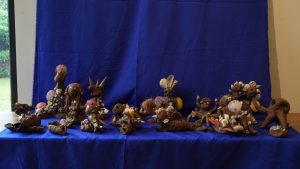 This Children's Day (November 14) CAS is set to host a workshop that is not just a free space for self-expression, but also free of charge. It will be an in-house workshop conducted by a team of experts invited by the Studio. The workshop is open to the age group between five to fifteen years. However, as there are only 25 seats available, registration for the event will be on a first-come-first-serve basis.
"We will be painting a five-metre-long canvas and children will have to come together and collaborate. They can employ different techniques like drip painting, drop painting, painting with a punch, with no heed paid to colour theory or artistic rules," says Sharada Kerkar, the co-founder of CAS.
The main aim of the Children's Day workshop is to let children release their inhibitions and express themselves unhindered on the canvas. Participants are free to paint by jumping or walking on the canvas, which will be laid out on the floor. According to Kerkar, the idea is "to celebrate the spirit of the freedom of childhood".
The first two weeks of November were also jam-packed with special Diwali-related art workshops that were open to various age groups for a nominal fee, with all materials provided on-site. The Studio organised workshops on diya painting, narkasur mask-making, and Akash Diya lantern-making, as well as a two-day immersive art programme for children.

October, this year, witnessed workshops centred around storytelling and character-building through clay modelling with Ukrainian artist Nataliia Marynenko conducting 'Jungle Spirits' and 'Ocean Spirits' with Kerkar as co-facilitator and artist Amitha Sharma facilitating 'Papier Mache Sculpting' that focused on creative armature building, a process involving clay modelling.
"Expert educators in the field are invited to disseminate their knowledge and experience to the next generation of thinkers and artists through workshops. This also opens numerous avenues for youngsters to hone their artistic talent that will come in handy in the pursuit of creative opportunities in the future," states Kerkar.
Combining art and education, the activities that are conducted in the Studio offer children an opportunity to view and interpret the world through their own unique lenses, as well as refine their fine motor skills and communication skills.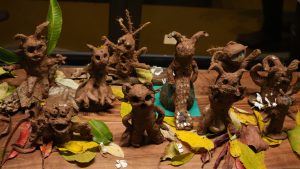 "Introducing children and students to various media, textures, instruments and surfaces to create art, observing them giving shape and bringing to life intricate and emotional artwork that is wholly representative of their individual spirits, temperaments and expressing themselves in ways that would be next to impossible in a solely theory-oriented space is incredibly heartwarming," Kerkar affirms.
To register and for further queries, contact 8010565923.
Comment