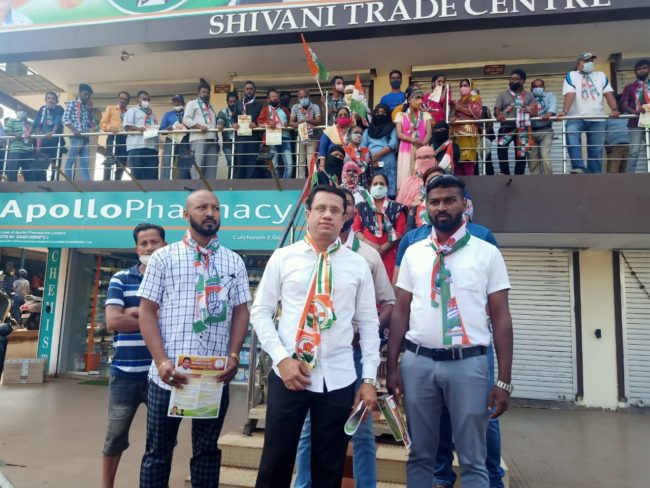 Chirstanand Pednekar/ Goekarponn desk
CURCHOREM: Political situation in the Curchorem constituency, especially in Congress block, has been surrounded by suspense.
When two Congress ticket aspirants are slogging themselves by socializing and actively showing their presence in the public domain, it will be interesting for the Curchorem people to know who will bag the Congress ticket in the Curchorem constituency.
Several interesting political developments are unfolding with the assembly elections round the corner. There is no second opinion that the people of the Curchorem constituency, especially the supporters of the Congress party, will get a chance to witness the twist and turns over the Congress party ticket announcement in Curchorem.
Presently there are two ticket aspirants for the Congress ticket from the Curchorem constituency that is Amit Patkar, and the second one is Balkrishna Hodarkar.

They have started their door to door campaign in the last one month. The Congress party will have a tough time allocating its party ticket to one of them since both aspirants are trying their best to show their presence and popularity in the constituency.
Recently, one aspirant Balkrishna Hodarkar declared his manifesto for the Curchorem constituency and started a door to door campaign. On the other hand, Amit Patkar gave his time for doing social activities such as eye checking camps which received tremendous response from the people. Further, Amit Patkar has also announced to put Foundation stone in a big State of the Art Sports Facilities ceremony on 21st December 2021 at Vibrant Arena, Bepquegal, Curchorem Goa. Considering all these things, it will be very interesting to see what the time has kept for both the aspirants.
Interestingly, there are three Congress offices in Curchorem; one is of the Curchorem Congress Block committee, the second one is of Amit Patkar, and the third is of Balkrishna Hodarkar. Both of them have considerable supporters whose support both the aspirants are receiving.
But in this race to get the party ticket, the next question is whether the other aspirant who won't get a ticket will remain with the Congress party and work to make the party strong and win in Curchorem by supporting the other candidate who will get the ticket.
Or the candidate not getting the Congress ticket will jump into another party? Only time will tell.
Comment