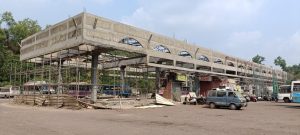 Goemkarponn desk
PONDA: Commuters suffered as the government after declaring Ponda's KTC Bus Stand shed unsafe last year, it's renovation work has been pending for eight months. Locals invite the attention of the Chief Minister and Ministers at the KTC Bus Stand to complete the long pending renovation work.
Locals said completing work before the rainy season is necessary and suggested the construction of a new bus stand as the old one is in dilapidated condition.
It may be recalled that last year the government declared KTC bus Stand shed unsafe for passengers and later began renovation work; the contractor removed the roof sheets and began repair on the bus stand shed.
However, two months after the repair work contractor abandoned the work. Since then, people have been forced to stand in open spaces below the sky, braving rain and hot sun in summer.
Viraj Sapre, the social worker, said renovation of the bus stand shed has been stalled for the past eight due to which passengers are forced to brave the elements during the day and fumble in darkness while they wait for buses at nighttime.
As most of the bus stand, including the toilet, remains dark, there are chances of rape and murder during the night, said Sapre. The government and Ministers that use cars for them amounting to several lakhs must visit and see the plight of passengers on the interstate bus stand.
He said the bus stand shed work seems to be abandoned, and they do not know why or when it will start again.
The bus stand has been in the dark and appears like a graveyard at night as it is rounded by shrubbery and large trees.
Rajesh Naik, former Bandora Sarpanch, said the roads and bus bays within the premises are in the worst condition.
He invites the attention of the Chief Minister and Ministers at the KTC Bus Stand. He suggested the construction of a new bus stand.
Presently commuters are forced to brave the hot Sun, and in monsoon, they will have to face rain with no proper shelter to accommodate them.
The small temporary shed is too small, forcing people to stand in the hot Sun. He said there is proper provision for the approach road to the KTC Bus stand.
Comment