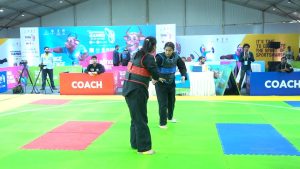 Panaji, Oct 29: The high of winning a medal can make a player overcome any pain threshold. Uttar Pradesh's Purnima Pandey even went for a national record after being assured of the gold in the 87+ kg weightlifting competition of the 37th National Games on Sunday.
Pandey lifted a total of 222 kg (100kg in snatch and 122 kg in clean and jerk) to win her second successive National Games gold medal at the Campal Games Village.
The Uttar Pradesh lifter attempted to improve on her own national record of 105 kg in snatch in her third attempt but lost her balance and almost twisted her ankle.
She has also been battling a wrist injury for quite some time and will require surgery. Despite that she went for 129 kg in clean and jerk, attempting another record. But it was not to be.
When asked why she pushed herself to lift higher weight knowing well that the gold was assured and she could aggregate her injury, Pandey said, "as a player it's quite difficult to hold yourself back after coming this close."
The drop in ranking due to the injury in the past one year was another factor for Pandey, who wanted to prove a point to herself and her competitors that she was still one of the best in the national circuit.
On Sunday, she pipped Kerala's Ann Mariya for the second straight time in the National Games and the satisfaction was quite visible on her face.
"I needed to prove a point after the drop in my ranking and I am happy with the way I performed today," she added.
Given the way the weightlifting season in India is and the competition for the national squad, players tend to play with niggles and injuries as the financial support from the government and sponsors depend on their performance.
Pandey is therefore clear that she will have to delay her surgery till after the senior nationals in January. "Senior Nationals is the most important event for us. I am working closely with the coach on injury management and rehabilitation and I am confident that I can win the gold there as well."
Comment