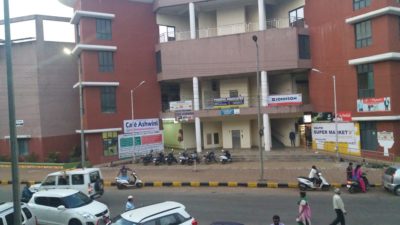 Goemakrponn desk
VALPOI: Despite the financial condition of the Valpoi Municipal Council being fragile, the municipality has failed to recover revenue of Rs 50 lakhs.
Now, with almost no grants from Government and dwindling coffers, the VMC has undertaken a campaign to recover the arrears.
According to the information received, cases have been filed against several tenants for failure to pay rent. The VMC has also given the option to tenants of paying the arrears in instalments.
VMC has rented several shops in two buildings.
Some using this shop started their own business. However, the rent of the municipality has not been paid yet.
According to the information received, the rent of the municipality is approximately Rs 50 lakh.
Sources also said the majority of this is from the Theatre.
The municipal administration did not take any strict action in this regard so far.
The arrears have reached such a level as it is now difficult for even the tenants to pay. Had this amount been recovered by the municipality three years ago, it would have benefited the city financially.
According to the information received, the municipality has issued notices in this regard to several tenants. Some have started paying the rent in instalments.
Meanwhile, according to further information received, the Theatre was started in the building in front of the present head office of the municipality.
However, the theatre owner has not yet paid his rent. This figure is expected to be around 40 lakhs. The Theatre has been running for almost two years.
Citizens are now asking the question as to how the municipality will recover the exhausted recovery of nearly Rs 40 lakh.
Meanwhile, Dashrath Gavas, Chief Officer VMC, said that a recovery campaign has been launched.
"Notices have been issued to several tenants for paying arrears. They have been given a fixed term, and they must pay the amount due to the municipality immediately. Otherwise, action would be initiated," he said.
Comment