Goemkarponn desk
CANACONA: A multi-axle truck driven by a 45 year old Tamil Nadu native and a Karnataka registered truck are the latest to fall victim to the dangerous and bad road engineering by the officials of PWD National Highways, the driver of the vehicle that met with the accident at Gulem on Wednesday evening lost control over his vehicle while overtaking. The other truck fell in a gorge after the car veered off the road at Godeavoll on Wednesday night.
The truck that fell off the road at Gulem carried 15 tons of carbon filler from Chennai to a rubber mixing plant at Usgao in Ponda while the other Karnataka registered truck was proceeding towards Karwar.
The driver of the ill-fated truck at Gulem refused to identify himself except saying that he is from Tamil Nadu. He informed that as there was no shoulder on the side of the road, the truck just veered off from the road to fall in a gorge.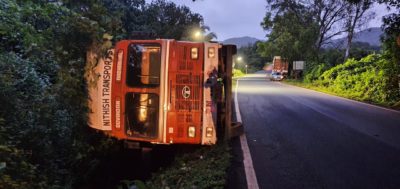 The other truck driver lost control over his vehicle as there was no shoulder on the road. He took his vehicle onto the roadside to save an oncoming vehicle, ultimately landing on its side down below.
Both have to undergo losses as their vehicles got badly damaged due to the accident and will also lose some days till the respective vehicle gets repaired for no fault of theirs but due to shoddy road work carried by the PWD officials both informed.
The driver's told Goemkarponn that they have been driving heavy vehicles for the last 25 years and have not seen this type of horrific road anywhere in India; when I reached this place (Gulem) around 6.30 pm, there was another vehicle in front of me, and the road was wide enough for me to overtake and straight too, to my bad luck due to the growth of vegetation I didn't understand that there is no shoulder on the roadside which lead for the truck to collapse down the road he informed.
Such is the condition of this road from Balli to Gulem. Since the last couple of months at least twenty trucks have met with major or minor accidents causing damages to their vehicles and injuries to the occupants themselves locals complained.
"This year, there have been several incidents where people have been badly injured.
Comment