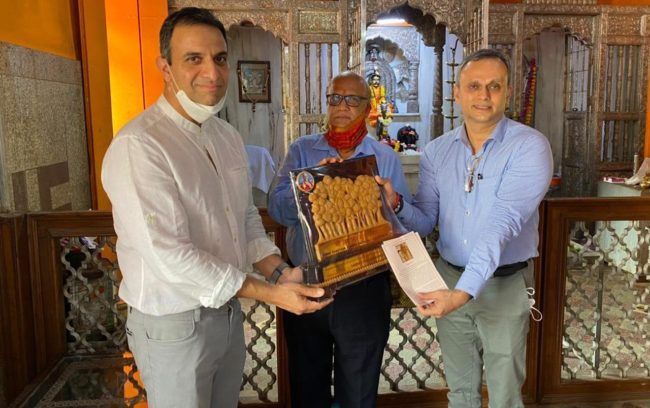 Margao – Internationally acclaimed Goan Artist and Proud Mathgramastha Padma Bhushan Laxman Pai truly deserved the prestigious Vidhyadhiraj Award instituted by H.H. Srimad Vidhyadhiraj Teerth Sripad Vader Swamiji of Shree Saunathan Gokarn Partagali Math. The destiny gave the honour to his Son Akash to receive the honour on the twelth day of demise of Laxman Pai said Leader of Opposition Digambar Kamat.
He was speaking at historic Shree Damodar Sal at Margao during the Vidhyadhiraj Puraskar presentation function. Chairman of Shree Gokarn Partagali Math Committee Shrinivas Dempo was also present.
It is an honour for the Math Committee to present the award to Laxman Pai who brought laurels to the Country. He is a proud Goan and a Saraswat who received international recognition for his paintings said Shrinivas Dempo. He said the Award could not be presented to Laxman Pai last year due to outbreak of Covid Pandemic. He thanked Akash Pai for accepting the award on his departed fathers behalf.
The award consisting of Replica of 550 years old Banyan Tree at Partagali, Shawl, Shreefal, Citation and Cash of Rupees Twenty Five Thousand was presented by Shrinivas Dempo and Digambar Kamat to Akash Pai.
Math Committee memeber Anil Pai welcomed the gathering and elaborated on the Vidhyadhiraj Award.
The function was attended by Pradip Naik, Narayan Mauzo, Subhash Pai Fondekar, Shrikant Pai Fondekar, Krishna Mauzo, Vishal Pai Cacode, Shekhar Pai Fondekar and many others.
Late Padma Bhushan Laxman Pai is the 47th Awardee. Earlier former Railway Minister Suresh Prabhu, Dr. Anil Kakodkar, Nandan Nilekani, Rear Adml. Jayant Nadkarni, Shyam Benegal, Adv. Manohar Usgaonkar and others were awarded the Vidhyadhiraj Award.
Comment