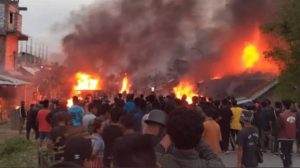 Goemkarponn Desk
PANAJI: Women's rights groups, human rights groups, and concerned citizens of Goa, have written to the Prime Minister, Home Minister and Chief Minister of Manipur to register our strong protest against the stripping, parading and molestation of Kuki tribal women in Manipur and the gender-based violence experienced by all women in that State during the last more than two months.
"We also register our protest against the visible inaction or delay in action by the State even though an FIR, we learn, was registered as far back as the first week of May. We note with anguish that the age-old practice of men attacking women of
the opposing community to settle scores, continues to remain the main weapon that menfolk in our patriarchal society take recourse to each time disputes arise between people," the letter
They also said that is deeply disturbing that despite being aware that such incidents show a recurring pattern in our country the State has simply failed to
intervene and protect the women of Manipur.
We submit that men attacking, disrobing, raping and humiliating women from the opposing community as a way of getting back at other menfolk is
symptomatic of a male dominated society, which believes it can treat women as objects and as the property of men.
"We are totally opposed to this view and ashamed that it still continues to prevail among our people. We expect the highest officials of our country to not only speak out against such atrocities but to also act firmly against those who continue to harbour such archaic views and opinions.
Comment