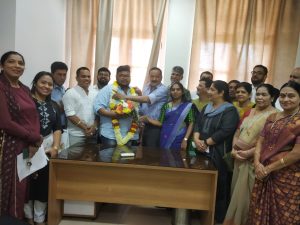 Goemkarponn desk
MAPUSA: Viraj Phadke was elected unopposed as the chairman of Mapusa Municipality after councillor Anand Bhaidkar withdrew his application.
The opposition group in the Mapusa Municipal Council had decided to make the election to the Vice Chairperson's post a little lively by fielding councillor Anand Bhaidkar while the former market committee chairman and councillor Viraj Phadke was the candidate of the ruling group.
As MMC Chief Officer Amit Shirvoikar received only two nominations for the post of Vice Chairperson, Presiding officer Gurudas Dessai declared Viraj Phadke unopposed as vice chairperson.
Councillor Viraj Phadke filed two nominations, with councillors Sinath Raul and Chandrashekar Benkar proposing his name in each nomination set.
Councillor Kamal D'Souza proposed the name of councillor Anand Bhaidkar for the election of the Vice Chairperson's post, but the ruling BJP group, councillor Viraj Phadke, had exuded confidence that his victory was sure as several councillors were with him
"I am thankful to all the councillors for electing me. Whatever administrative works are there, I will try and speed it up," Phadke said
Speaking further, the newly elected vice chairperson Viraj Phadke said he would take steps to develop Mapusa Municipality as soon as possible He also said that we would try to give equal status to all the wards. Similarly, he assured me that he is determined to bring new projects to the town.
Meanwhile, opposition group councillors, Shashank Narvekar, Sudhir Kandolkar, Komal D'Souza, Anvi Korgaonkar, and Tarak Arolkar, expressed their displeasure. They said that this election was not conducted democratically and questioned why all elections are not held by show of hands and expressed his opinion that such polls should be held by secret ballot.
frame
When journalists questioned councillor Anand Bhaidkar, he said that the development of Mapusa city should be done by consensus so that he does not get lost in it; he said that he had withdrawn his candidature.
He further said that all the corporators are ready to work together to develop Mapusa city.
It may be recalled that for the first time, the opposition group had decided to descend into the election arena and make life a difficult for the ruling BJP group in the council by fielding their candidate for the election of the vice chairperson.
Comment