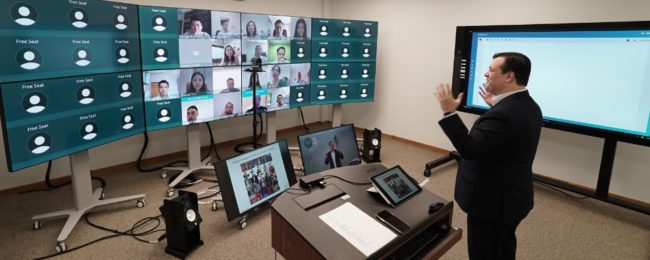 Goemkapronn desk
PANAJI: Focusing on new reforms in the education system, Chief Minister Dr Pramod Sawant announced that the Government intends to start Virtual Classrooms for School children, and Vidya Samiksha Kendra would assist in monitoring the teaching and learning process of students from Class first till Tenth. He was speaking at a programme organized for the launching of Class VII Regular Curriculum Teacher`s Handbook by the Directorate of Technical Education, held at Maquinez Palace, Panaji.
After launching the Handbook for Teachers of Class VII regular curriculum under the Coding and Robotics Education in Schools (CARES) Scheme, Chief Minister Dr Sawant further informed that Government has proposed a Scheme to the Central Government for introducing Virtual Classroom for school children which would give new dimension and fillip to the education system in the State. An initiative of Vidya Samikha Kendra aims to enhance students' performance at the national level.
All the Schools will be provided with a Competitive Device System, which is required to impart Coding and Robotics Education to students, involving an investment of Rs.15 Crores by the Government, CM said. He also expressed satisfaction with the achievement of CARES scheme in imparting Coding and Robotic Education to children.
Goa is the first state in the country to introduce Coding and Robotics Education in all Government and Aided Schools across the State. The Government is seriously working towards further improving the standards of education, the Chief Minister added.
Chief Minister Dr Sawant lauding the Scheme Agnipath launched by the Prime Minister, Narendra Modi, for youths to join Defence Forces, said that the Scheme would provide an opportunity to NCC or Scouts and Guide students to join Defence Forces.
Few students involved in Coding and Robotics Education and Master Trainers who have trained Computer Teachers in Coding and Robotics education were felicitated on occasion. The Chief Minister also launched the Social Media handle and website of the CARES Scheme.
The Directorate of Technical Education conducted a competition for making Short films based on Coding and Robotics Education, wherein a short film titled `Khuddo` took away the top honours having a Cash Prize of Rs 50,000/-.
Director, Directorate of Technical Education, Dr Vivek Kamat; Director, Education Shailesh Zingade, Project Director, Coding and Robotics in School Education Dr Vijay Borges also spoke on occasion.
Comment