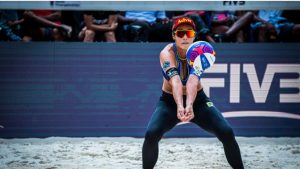 ● The event will take place in Goa from October 19-October 22.
● India's men's and women's pair of Rama Krishna Dhawaskar & Nitin Kashinath Sawant and Sasikala Veerapathiran & Kanizmohi Lakshmanan respectively to take part in the event
Goemkarponn desk
PANAJI: The Volleyball Beach Pro Tour is set to make its much-anticipated debut in India, captivating fans
from October 19 to October 22, 2023. The event promises an exhilarating showcase of world-class beach volleyball, featuring an impressive lineup of renowned athletes, including world champions and Olympic medallists.
Leading the women's pre-seeding are Swiss duo Esmee Bobner & Zoe Verge-Depre, demonstrating outstanding form this season. They secured a Jurmala Challenge silver and reached three semifinals out of four Challenge events.
India's Rama Krishna Dhawaskar and Nitin Kashinath join the men's main draw, while Sasikala Veerapathiran and Kanizmohi Lakshmanan represent the women's main draw.
Brazilian Olympians Agatha Bednarczuk & Rebecca Cavalcanti follow, with Agatha boasting a remarkable career, including a world championship in 2015 and Olympic silver at Rio 2016.
Reigning Tokyo 2020 Olympic champion Alexandra Klineman, accompanied by Hailey Harward, is seeded third, making a triumphant return after surgery and maternity leave.
The event sees an array of exceptional talent, including 2019 world champion Sarah Pavan of Canada with partner Molly McBain, and 2013 World Championship silver medallist Karla Borger of Germany pairing with Sandra Ittlinger.
The men's main draw features Czech stars Ondrej Perusic & David Schweiner, already with two gold medals this season. Seasoned Spanish standouts Pablo Herrera & Adrian Gavira, along with Austrian Alexander Horst, are among the top-seeded teams.
The tournament promises high-stakes action, with a dynamic qualification bracket adding to the excitement.
The Volleyball Beach Pro Tour in Goa marks a significant milestone for Indian sports enthusiasts, offering a chance to witness the world's best in action.
Comment