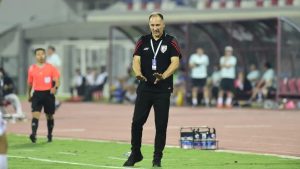 Goemkarponn Desk
DELHI: The Indian national team has undergone a remarkable transformation in their playing style, showcasing significant improvements in gameplay in recent times. Gone are the days of sitting back and waiting for counterattacks; instead, they have shifted their focus towards a more proactive and possession-oriented approach. The team now emphasises ball retention, precise passing, and initiating attacks from deeper positions.
And the man behind this remarkable shift in their philosophy is their head coach, Igor Stimac. His leadership, meticulous planning, and tactical insights have instilled a strong conviction in the players, encouraging them to express themselves on the pitch.
Stimac took charge of the Blue Tigers back in 2019, and since that very day, he has started the process, and we are now witnessing the results.
"Football is a process and you need time to make huge changes. At my first press conference, I was very open, very sincere about what needed to be done. And the first goal was to change the mindset of the players. It is again a process which requires time," Stimac stated in an interaction with Firstpost.
"Now we are in the stage where we have a national team which is making the Indian nation proud of the way they play, of their attitude, of their behaviour, of their warrior attitude which we instilled in them. They are like brothers on the pitch and that is what I like about them," he added.
The fundament of the team has seen significant changes. They now begin every game with the same level of intensity, irrespective of their opponent.
Their confidence and belief in their playing style have been key factors in their success. The Blue Tigers have displayed an impressive offensive record, scoring 15 goals in their last nine games. Remarkably, their offensive prowess has not compromised their defensive solidity.
India are currently on a nine-match unbeaten run, but what's even more remarkable is that they have had eight consecutive clean sheets, which is a joint record for the Indian national team.
Comment