Highlights…
Four of Eight lanes are to be completed this month-end, including load testing, and ready for opening for traffic.
Both Sides of traffic would be allowed on the bridge.
Vasco and airport commuters will have to use the old Zuari bridge as the Cortalim ramp, which has a Sharp S-Curve, will not be opened initially.
Project Details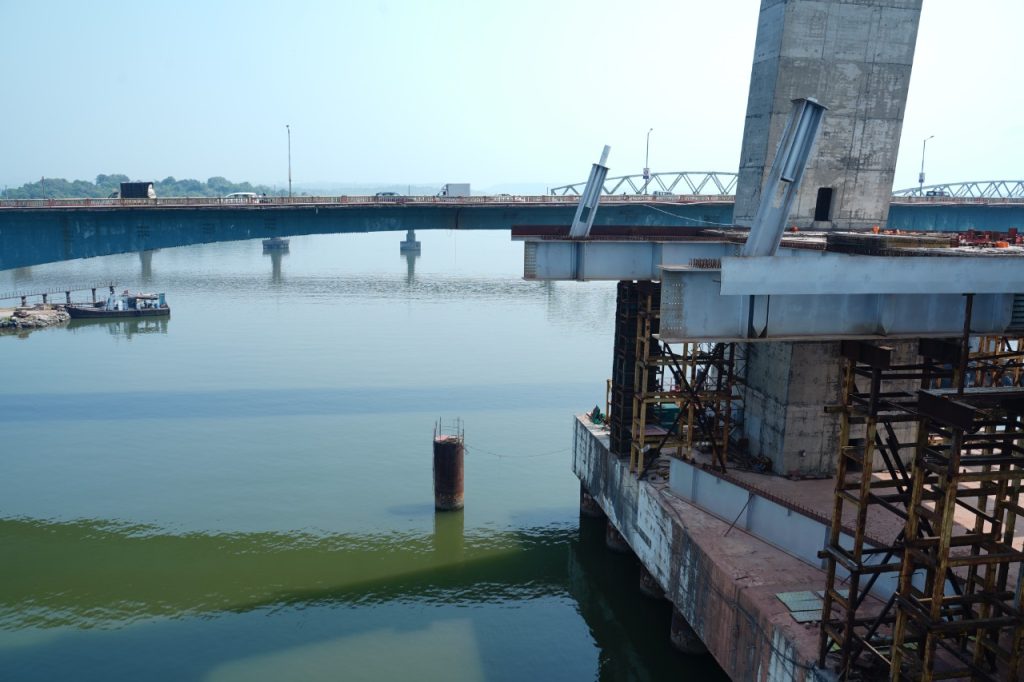 13.635 km Zuari Bridge project (NH-66) by NHAI in Goa is an under construction 6-8 lane access-controlled highway with a route alignment connecting Bambolim and Verna.
The project's foundation stone was laid in January 2016. It has a current deadline of 2023. The bridge is slated to open in January 2023.
The project comprises of 3 sections – a 8.2 km highway from GMC Bambolim to Goa Velha, a new 1.08 km Zuari Bridge (Cortalim – Tiswadi) and a 3.6 km highway to Verna. Approximately 6.4 km of these highways will be elevated.
The new Zuari cable-stayed bridge is under construction by Dilip Buildcon and will be 640m long with a central span of 360m and end-spans of 140m on either side – making it the 2nd longest cable stayed bridge in India.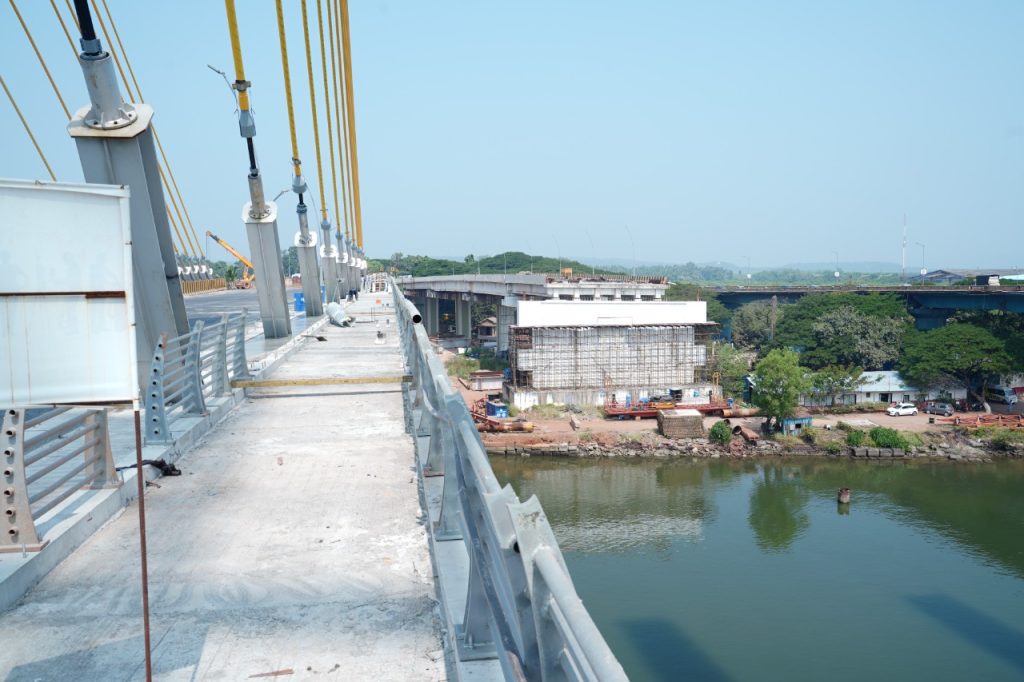 The bridge will consist of 27m wide dual carriageways and a centre median of 10.7m. Its deck will comprise a composite structure (steel structure and concrete).
Initial Estimated Cost (only bridges) – Rs 545 cr plus cost escalation of 10 to 15 per cent     
SURAJ NANDREKAR/
Goemkarponn
AGASSAIM/ CORTALIM: Well, as the Chief Minister of Goa Dr Pramod Sawant is Gung-Ho about the inauguration of the New International Airport at Mopa, the Zuari Bridge, the much-needed project for Goa considering the tremendous pain Goans have to go through due to traffic congestion, seems to be waiting for attention.
With teh old Zuari bridge – the connection between North and South Goa, in precarious condition- the inauguration of the new bridge is necessary.

The RHS side (Cortalim to Panaji) of the 640-meter cable-stayed Bridge is 99 p.c complete, and as per the project proponents Dilip Buildcon, the four lanes of the 8-lane bridge will be ready by this month-end.
However, the Government will have to decide on the date and time of the inauguration.
A visit to the new bridge revealed that the project is almost complete; only one major work remaining is crash barriers on one side, which would be completed in a week and then starts load testing.
Giving details of the Project Devgunda Patil, Dy project Manager DBL Ltd, said the bridge is almost ready and awaits opening.
"Actually, this is package two of 1.089 km in which 640 meters is the Cable-stayed bridge. So almost all works on one side cable laying, hot-mix carpet is ready, and by this month-end, we will complete all the works, including road testing would be complete. The LHS bridge would be completed in six to seven months' time. So we will have a complete bridge next year," he stated.
Asked what works are pending, he replied miscellaneous works like crash barriers and road testing and road marking is pending.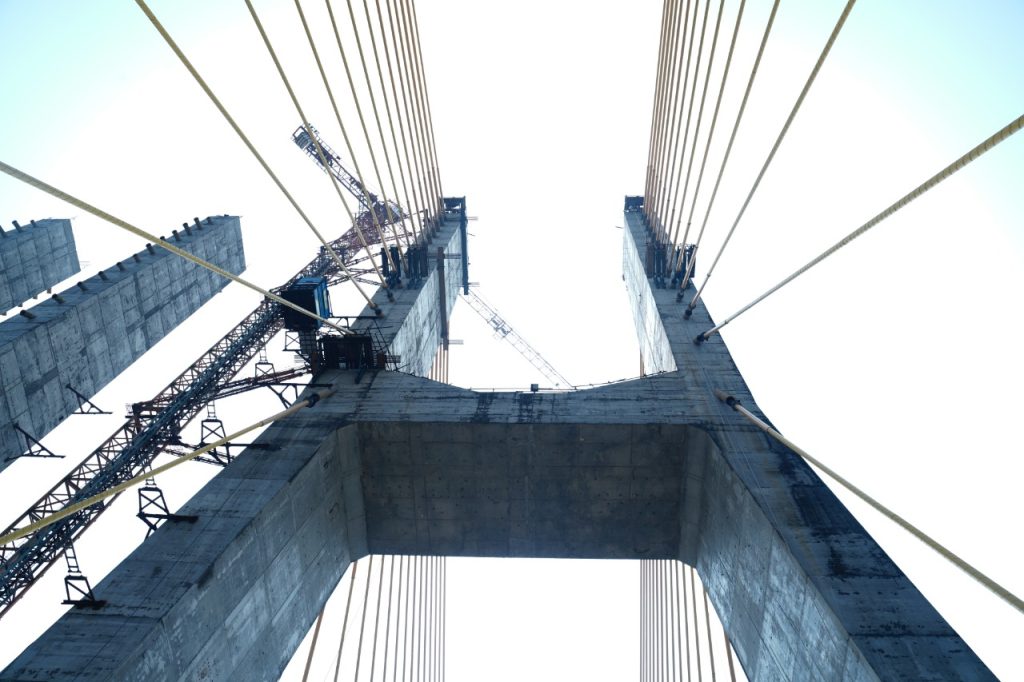 To a pointed question of whether any precautions have been taken on hot-mix carpet to see that there are no potholes in future, aka Atal Setu, Patil answered DBL has taken a lot of precautions.
"Here we have used PMB 14 (Polymer Modified Bitumen), which has water resistance power and also gives a very smooth surface," he said.
So do you mean to say the potholes issue won't happen on Zuari bridge? he replied, "we have taken all the precautions here, so I hope those things don't happen here."
Traffic Plan…
Patil said that the traffic movement will be smooth once the bridge opens.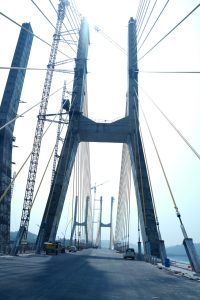 "We have had meetings with government officials, traffic and RTO and completed the safety audit on how traffic will be moved smoothly. Initially, both sides of traffic will be allowed on the bridge as it is a four-lane bridge from Panaji to Margao and Margao to Panaji. Remember, the old bridge had just two lanes. So we expect this to be a smooth ride and avoid traffic congestion," the Dy project Manager informed.
However, he added till the other side of the bridge is completed, Vasco and airport commuters will have to use the old bridge as the ramp at Cortalim will not be opened.
"There is an S-curve at Cortalim, and with the amount of traffic, it could create congestion. So the Vehicle starting from the Agassaim ramp will have to go to the Toyota showroom and then take a right turn on NH17-B to the airport or Vasco," he said.
Comment