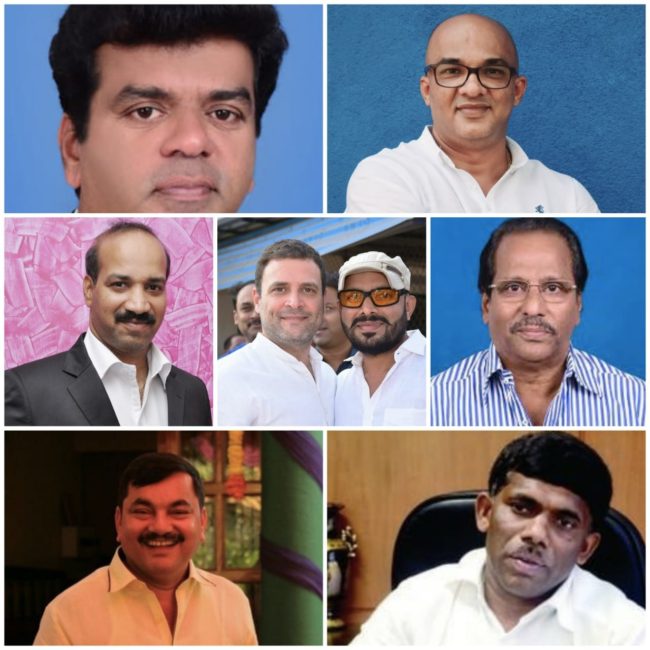 Goemkarponn desk
CANACONA: The battle line has been drawn, and so is the canvassing picked up. With seven out of eight candidates are hitting the roads to approach the people for their votes doing door to door campaigning.
But, the pertinent question remains as to who holds the edge and who the voters see one of their candidates as a future MLA.
The problems bugging the Canacona constituency ranges from day to day sustainability (self-dependency-atmanirbhar) to employment, the basic needs of Roads, Water-supply and electricity, community-based developments, health care and so on.
However, though they are amidst the campaign's peak, candidates and their strategists are not leaving anything to chance. They are taking on gullible voters on either side, the newfound 'Social Media platforms' and the old and trusted guard 'Mouth-whispering' and meeting the electorate personally (door-to-door).
Incidentally, either independent or party candidates initially launched social platforms (Facebook, YouTube, Twitter, WhatsApp, Instagram, etc.), and everyone edited videos, later updated them, and spread thick and thin on every available and accessible social platform.
Incidentally, except for one, all the seven other candidates are seen vigorously canvassing but meeting people, holding door-to-door campaigns, chairing corner meetings, and some have even scheduled public meetings in the next few days.
Several videos of developments done, intended to do and how the electorate is Responding in their favour are being shot and uploaded on various social platforms.
Independent candidate Kanay Pagi is known to have only his close contacts and immediate neighbourhood in seeking votes for his candidature on his voting symbol Pen Nib with Seven Rays.
The canvassing of BJP's candidate Ramesh Tawadkar which was taken up initially very enthusiastically and in a wider scope has been subdued off lately since taken over by 8 of the ruling Canacona councillors, including the chairperson.
Except for the hype in municipal areas, people's feedback in BJP's and particularly Tawadkar's stronghold areas has sadly ebbed away. Tawadkar's popularity amongst his own community electorate, be it at Gaondongrim, Khotigao, his bitter rivals Isidore Fernandes and Vijay Poi Khot, has almost tattered, leaving only one-fourth to Tawadkar BJP.
Incidentally, Independent candidate and BJP rebel Isidore Fernandes except for one Shrishthal panchayat (where also four Panch go with him), controls all other 5 panchayat's of Agonda (6 out of 7), Gaondongrim and Khotigao totally, Loliem-Polem and Poinguinim (entire ruling panel), while another BJP rebel and Independent candidate Vijay Poi Khot has the upper hand with the Saraswat community panch members of Poinginnim and Loliem-Polem, and two of the Panch's of Shrishthal.
Shrishthal Sarpanch Ramu Naik is strongly backing congress candidate Janardhan Bhandari as good as at least one Panch in his home village of Poinguinim.
Incidentally, BJP's campaign has been hit by the absence of Canacona Mandal and Yuwa Morcha, the entire Congress local units are strongly rallying behind congress candidate Janardhan Bhandari and accompanies Bhandari buoyed by the activation of its youths, garnering the support of OBC Mahasangh, and presence of party's State leadership is giving further flip to congress campaign in Canacona.
While, BJP rebel Vijay Poi Khot campaign is mainly based on support by his community (Saraswat) leadership (Loliem-Polem panch and ex-Sarpanch Bhushan Prabhugaongkar, Poinguinim panch Bipin Prabhudessai, and other, besides Arun Bhat, who were tall BJP Sympathizers ), has all vouched and are presently not only support but even canvases for Poi Khot.
BJP rebel and Ex-Dy Speaker and Ex-MLA Isidore Fernandes Incidentally has a unique blend of supporters rallying behind him and strongly canvasses all-around.
In fact though most other candidates propagate mostly against Fernandes as their sole rival, Fernandes team presents the various developmental works undertaken by Fernandes during his last term.
Fernandes most approachable attitude during the last term is being presented to the electorate mostly by his supporting Sarpanch's/panch members and councillors with a live demonstration of completed, ongoing, to be taken-up works in respective localities.
However, Fernandes campaign is further boosted with the entire Canacona BJP Mandal and Bharatiya Janata Yuva Morcha (BJYM), which controls all the Booth level committees are strongly backing also canvassing for his candidature as Independent Candidate.
AAP's Adv Anoop Kudtarkar, asking people to support him as he is educated and capable of taking up People's aspirations, has also started on door to door campaigning. Kudtarkar has until recently been hosting tournaments, stating that allows him to meet more and more youths at one place rather than visit house-to-house.
Revolutionary Goans Prashant Pagi, who have been undertaking people's issues and problems a few months before the elections were declared, revisits the areas seeking support and votes.
Trinamool Congress (TMC) candidate Mahadev Dessai, initially engaged in expanding his base with the induction of local leaders, has also been vigorously canvassing by meeting people visiting door to door.
Incidentally, Dessai, who has visited people earlier as Congressmen, is revisiting this time with a TMC banner, telling people why inspite of strong congress ideology, he is forced to contest on the TMC platform despite strong congress ideology.
Comment