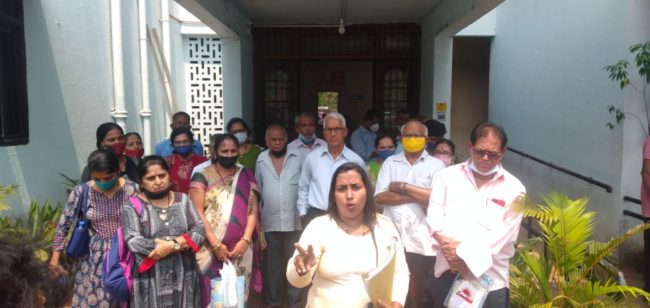 Goemkarponn desk
PONDA: Senior citizens/ depositors of Marcel Mahil Cooperative Credit Society at Marcel filed police complaints against cheating on their hard-earned retirement money to the tune of Rs 9 Crore.
The depositors gathered today at Ponda Police Station speaking to the media said they want Society to refund their fixed deposit money.
They demanded Police file FIR against Society Chairman, Vice Chairman, Secretary and Directors.
Speaking to the media, Advocate of depositors Sushma Gaude said they had filed a cheating complaint against Society in December 2021, but it's now three times they were called by Police; however, the Society Chairman and Directors are not attending to police inquiries.
Today, the Chairman and Directors were called at the Police station, but the Chairman remains absent, citing she had to attend a wedding while the manager is absent, citing another excuse.
The two directors of the Society were present; however, they had already resigned from their post and even filed a complaint against Society Chairman and other directors.
Citizens said this is cheating by Society to around 200 shareholders and depositors, most of whom are senior citizens induced to fix-deposit their money with Society.
Many of these depositors, who are senior citizens, struggle to bear the cost of their sickness and medical expenses.
They had deposited all of their hard-earned money in their and family members' names.
It is three years for the maturity of deposits, but Society is still not refunding their money, nor does the lady Chairman entertain depositors and clarify what happened to their hard-earned money deposited with Society.
There has been no AGM nor Board Meeting of Society for two years.
She said the depositors also filed a complaint with the Registrar of Cooperative Societies but no action against the Society.
Adv. Sushma Further said today, the Police promised them to conduct a probe into the matter.
The officials said the Chairman is called at Police Station on Tuesday 29 March.
The Police also promised to get an inquiry report from RCS and an audit report of Society to give justice to depositors.
Comment