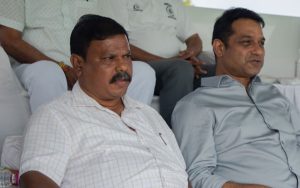 Goemkarponn desk
NEW DELHI: Dr Caitano Fernandes is a man in a hurry.
It is not because he lacks composure or doesn't have time on his side. The reason is simple. The Goa Football Association President and SAFF Competitions Committee member strongly believes everything else surrounding his life can wait, but the welfare of football in the state cannot. Hence, he has taken up the task of 'Mission Goa Football' on himself.
On Monday, October 30, 2023, Dr Fernandes completed his one year in office. He has a report card to present that is truly impressive. For a man, who was considered a rank outsider only a few months before his election to the post of president, it is definitely an achievement to tick off most of the things he promised in his election charter.
"One year ago, when I became the GFA President, things were not at their best in Goa football. Everybody around was saying that it was sunset time for Goa football and the glory days were over. I didn't believe it," said Dr Fernandes.
"Instead, I prepared a vision plan, distributed it among the clubs and requested that they air their views on it. This was almost six months before I got elected. Once I was elected, my first and foremost job was to implement things that I highlighted in my vision plan earlier," added the businessman from Dona Paula.
Dr Fernandes says his achievements are plentiful, and he believes that most of the things listed in the vision have been implemented.
"I took over on October 30, 2022. So far, we have conducted a record 826 matches in seven months to ensure all competitions in Goa finish on time. On two occasions, 16 matches were organised on one day, which is a record. More than 25 matches were played under floodlights, which is yet another record in Goa football. A record number of 7060 players took part in GFA competitions in the 2022–23 season," said Dr Fernandes.
The GFA chief said that Goa has slowly returned to the position from which it could proudly claim itself as the leading light of Indian football. "For the 2023–24 season, GFA has implemented all leagues and player registrations on CRS. We are the first state association in the country to do so. Currently, we have a record of 18 leagues on CRS," he pointed out.
However, what has thrilled Dr Fernandes most is the victory of Goa in the Tier 2 Junior National Championship for Girls in Jaipur, with a 1-0 victory over Andhra Pradesh. "It is an achievement for Goa after 22 long years. I consider it a huge triumph. My team is actively working towards the upliftment of women's football in the state. We Organised a Girls' U-14 League in January 2023 for the first time in GFA's history. I can promise you that the days are not far when Goa will be one of the best in the country in women's football," Dr Fernandes said.
Comment