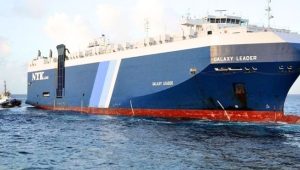 Tel Aviv, Israel: Israel on Sunday said that Yemen's Houthis had seized a British-owned and Japanese-operated cargo ship in the southern Red Sea, describing the incident as an "Iranian act of terrorism" with consequences for global maritime security.
The Houthis said they had seized a ship in that area, but described it as Israeli. "We are treating the ship's crew in accordance with Islamic principles and values," a spokesperson for the group said, making no reference to the Israeli account.
The Bahamas-flagged Galaxy Leader is a vehicle carrier affiliated with an Israeli billionaire. It said the 25 crew members had a range of nationalities, including Bulgarian, Filipino, Mexican and Ukrainian, but that no Israelis had been on board. The Houthi rebels reportedly seized the Galaxy Leader in the Red Sea on Sunday afternoon local time. The rebels descended on the cargo ship by rappelling from a helicopter, according to NBC News.
SHIP ON ITS WAY TO INDIA
Israel's military denied the ship was Israeli. A statement by the army on X said: "The hijacking of a cargo ship by the Huthis near Yemen in the southern Red Sea is a very grave incident of global consequence." "The ship departed Turkey on its way to India, staffed by civilians of various nationalities, not including Israelis. "It is not an Israeli ship," the Israeli army said in the statement.NO ISRAELIS ON THE SHIP
The office of Israeli Prime Minister Benjamin Netanyahu also denied the ship was Israeli but denounced, in a statement, "the Iranian attack against an international vessel". "The ship, which is owned by a British company and is operated by a Japanese firm, was hijacked with Iran guidance by the Yemenite Huthi militia," it said. "Onboard the vessel are 25 crew members of various nationalities including Ukrainian, Bulgarian, Filipino and Mexican," it added.
Earlier on Sunday the Houthis said all ships owned or operated by Israeli companies, or carrying the Israeli flag could be targeted. Huthi military spokesman Yahya Saree said in a statement on X, that their "military forces will continue to carry out military operations against the Israeli enemy until the aggression against Gaza stops and the ugly crimes… against our Palestinian brothers in Gaza and the West Bank stop."
WHO ARE HOUTHIS?
The Houthis, an ally of Tehran, have been launching long-range missile and drone salvoes at Israel in solidarity with the Palestinian Hamas militants fighting in the Gaza Strip.
Comment