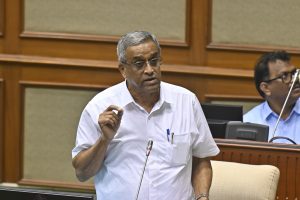 Goemkarponn desk
PANAJI: After spending over 133 cr on bunch cabling, the Power Minister Sudin Dhavalikar has now termed the entire project as major failure.
Dhavalikar informed that in entire Goa total 760.5 kms. ABC cable was installed out of which 448.93kms is in service which works out to 59%.
He further said that the AB cables have failed in many places due to jointing kits, excessive temperature, insulation failure and time taken is longer for fault detection and as such for restoration. Also, there is no specific fault finding method.
Dhavalikar told the Goa Legislative Assembly that the Aerial Bunch Cabling project undertaken by the power department was a total failure in the State.
"I agree that the bunched cabling project is a total failure. The conductors on power lines were not changed for the last several years. We have now started work of changing the old conductors across Goa which will help to keep check on power outages in the State," Dhavalikar said.
The State government has taken on the task of installing ABC in locations where underground cabling is not possible due to a lack of land to address the issue of frequent power supply failure in remote areas, notably in forest areas due to fallen trees on main lines during the monsoon.
In 2017, the aerial bunched cabling project got under way. One thousand kilometers of 11 KV power supply lines would be covered under the experimental project. The project was expected to cost Rs. 145 crore. Additionally, 20,000 poles needed to be moved or replaced by the electricity department.
There is no automatic defect detection device in the ABC technology. For defect diagnosis, one must walk the entire length of the route, which takes a lot of time because some feeds are 30 to 40 km long.
Comment