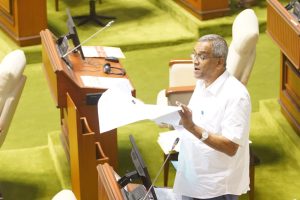 Goemkarponn desk
PANAJI: Power Minister Sudin Dhavalikar on Monday said that infrastructure related work including new sub-stations, installing transformers, converting both LT and HT transmission lines from overhead to underground among others worth Rs 2,863 crore are either ongoing or completed across the State.
Dhavalikar stated that he will review the alleged scam involving bunch cabling with Chief Minister Pramod Sawant, who oversees finance, and will then respond to the questions posed by the MLAs on the floor of the assembly.
The minister also disclosed the commencement of a new program under which the family of an employee of the energy department killed while on the job would receive '20 lakh as ex-gratia compensation. "We are giving the staff all the necessary safety gear. When working to restore power, the personnel must take care by donning protective gloves, among other things, he said.
Dhavalikar added that a total of Rs 8.21crore in subsidies have been given to 1,679 electrical vehicles to date.
"The government has updated its plan to encourage the use of electric vehicles and has submitted it for approval. According to the updated plan, an electrical two-wheeler will be eligible for a subsidy of up to Rs 25,000, a three-wheeler will receive a subsidy of up to Rs 60,000, and an electrical four-wheeler would receive a subsidy of up to Rs one lakh.
An Rs 370 crore sub-station at Saligao, which will be finished by December of this year and improve the voltage profile and dependability of the electricity supply in the Bardez taluka, was one of the big projects he listed.
According to him, a comparable sub-station at Verna is currently under construction and is anticipated to be finished by July 2025, greatly enhancing the power supply to the businesses in the industrial park as well as to the entire Mormugao taluka.
According to Dhavlikar, a 33/11 KV sub-station in Mandrem, which would support and enhance the power distribution in both the Pernem and Mandrem constituency, is nearing completion and will cost Rs 55 crore.
Additionally, according to Dhavlikar, the Power Department and the SVJL agency of the Central government have signed an agreement to explore the viability of establishing solar and hydroelectric power plants in the State.
He added that the Department has already ordered the necessary hardware to install solar units up to 100 MW, which will be used to carry out the decision to install them on all government buildings.
Comment