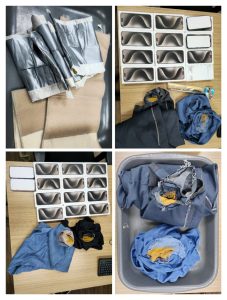 Goemkarponn desk
MOPA: At Manohar International Airport in Goa, the Directorate of Revenue Intelligence took action on a recent discovery.
Three passengers who had landed from Abu Dhabi were apprehended in connection with a significant seizure.
The individuals, identified as Irfan (30) hailing from Uttar Pradesh, Kamran Ahmad (38) from Mumbai, and Mohammad Irfan Ghulam (37) from Gujarat, became the focal point of a customs operation.
This took place on a Friday evening at the airport situated in North Goa.
Following meticulous scrutiny, DRI officials unearthed a discovery.
They stumbled upon a substantial quantity of gold, measuring 5.7 kilograms, ingeniously concealed in a paste form.
Additionally, the team uncovered a cache of high-end iPhone 15 Pro Max devices. These coveted electronic gadgets numbered 28 in total and were collectively appraised at an impressive ₹3.92 crore.
It has been ascertained that these passengers were operating as part of an intricate gold smuggling network.
This illicit syndicate appears to operate primarily between the bustling cities of Mumbai and the bustling metropolis of Dubai.
Their travel history reveals that they departed from Mumbai on October 12, embarking on a journey to Abu Dhabi. Subsequently, they arrived at their destination bearing the fruits of their clandestine activities late in the night on Saturday.
The intervention of the Directorate of Revenue Intelligence in Goa was executed based on specific intelligence inputs. These inputs prompted the officers of DRI Goa to carry out the interception of the accused trio. The iPhones were carefully concealed within packets and stowed away in the checked-in baggage. In contrast, the gold was concealed within the waistband of one of the passengers. For the other two individuals, the gold paste was stitched into the inner layers of their clothing.
It remains to be seen how the legal proceedings will unfold for the accused individuals and what further revelations may come to light in this unfolding story.
Comment