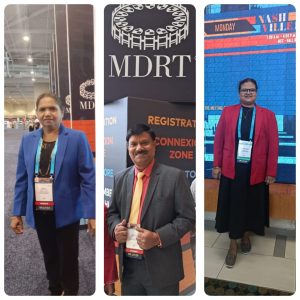 *3 from South-Goa serving a single LIC branch makes the mark
Goemkarponn Desk
CANACONA – Five top Insurance Consultants from Goa were amongst the 7000-odd insurance agents from around the globe participated at the prestigious Million Dollar Round Table (MDRT) at Nashville, Tennessee (USA).
The conference was held from 25th -28th June'2023- and is attended by three prominent South-Goa MDRT Qualifiers Agnelo Fernandes, L Ramamaheshwari and Camini C.Chari all Insurance Consultants (LIC Agents) with Life Insurance Corporation, 93M Branch, Margao, while two other MDRT qualifiers from North-Goa made-up the 5-members team amongst a few more qualifiers from Goafor the Global MDRT Meet at Nashville, Tennessee USA.
The vibrant city of Nashville has become the epicenter of the insurance world as Insurance Consultants (Agents) from around the globe descended upon the Music City for the annual Global Million Dollar Round Table (MDRT) meeting.
With its rich musical heritage and reputation for fostering creativity, Nashville converted the perfect stage for agents to exchange ideas, cultivate relationships, and harness the power of collaboration.
The MDRT, renowned as the premier association of financial professionals, has brought together top performers from various insurance and financial sectors, serving as a hub for professional development, knowledge-sharing, and industry innovation. The global event, was held from June 25 to June 28.
'Three of our Wonderful Insurance Consultants, the only representing South Goa attended the Global conference, them being- L.Ramamaheswari, Camini C.Chari, Agnelo Fernandes. This is very much of a prestigious and inspiring moments for all of us', stated Branch Manager (93M), LIC Margao Sanjay B Dere.
'The connections made here will reverberate throughout the industry, propelling agents to new heights and ensuring that the insurance landscape continues to evolve for the better, it was echoed on the final day (Wednesday -28th June'23) at Nashville, US.
Comment