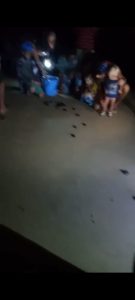 Goemkarponn Desk
CANACONA: The Season's first Olive Ridley hatchlings (67) were released into the Arabian sea on Friday night from this year's first –ever Pit nursed at Galgibaga in Canacona.
A total of 67 hatchlings crawled out of the first Turtle Pit secured with 93 turtle eggs at the Galgibaga Turtle Rehabilitation Nursery Site which were incidentally laid at neighboring Talpona coast at the beginning of the Nesting season (18-12-2022).
The olive ridley hatclings began to appear inside the net-secured pit coming out of the Pit on Friday late evening. In all around 67 hatchlings were counted and collected in a bucket.
The news spread like wildfire, and a number of people including many foreign nationals and young naturalists came rushing onto the beach, as forest guards assisted by forest engaged staff to man the nursery released the babies and guided them into the seawaters, with waves taking the along and soon disappeared into the sea.
According forest sources, some more olive ridley hatchlings are expected from the pit where 93 eggs were in procreation, and atleast 10-15 young one's are expected on Saturday night. The mortality rate could be more as these eggs were shifted from elsewhere, while 99% -100% procreation is expected only from natural pit excavated and eggs laid by mother turtle, added the forest source.
Galgibaga Turtle Conservation site , the headquarters of South-Goa Marine Range, also hosts 3 more pits with turtle Eggs in two pits shifted/transferred from Agonda (89) on 28th Dec'22 and Baina(57) on 11th Jan'23 and one more set of 135 eggs on 18th Jan'23.
Forest department expects olive ridley hatchlings in another 10 days time at Galgibaga beach, informed the sources.-END
Comment