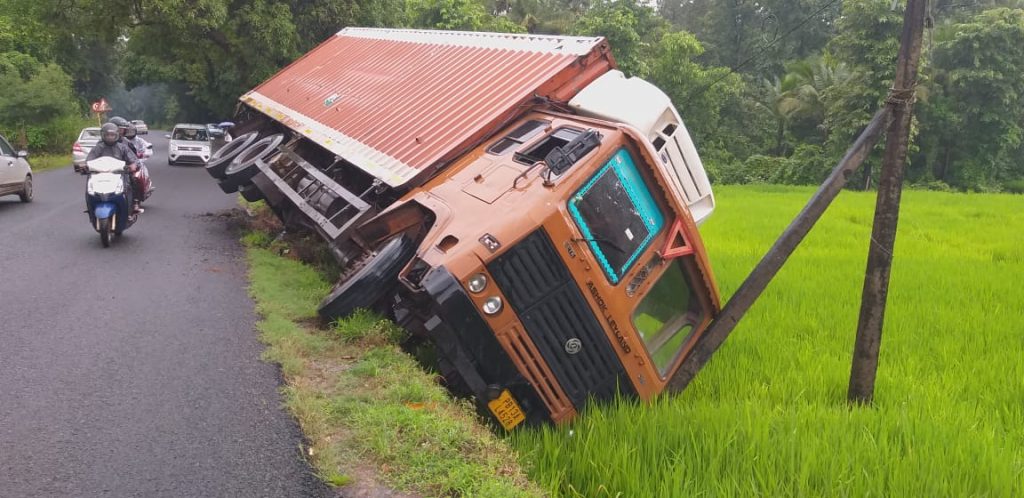 Goemkarponn desk
CANACONA: The free fall saga of vehicles going down the narrow NH-66 road continues unabated as an empty container falls down, damaging the paddy fields at Gulem early Friday morning.
According to sources, an Inter-State container bearing registration no.
PB-13 AL-4528 went off the road with its left-side wheels, went down into a Pit on one side of the road, and the Container Truck tilted with its front portion precariously resting on a supporting electricity pole of Electricity alignment at Gulem.
According to the driver, who identified himself as Yadav, in his efforts to avert an oncoming school bus at the foot of Karmalghat, the front left wheels went into an unseen Pit(a dugout alongside the under road flood drainage) on one side of the road.
"In my efforts to save from hitting an oncoming school bus, I moved the steering slightly to the left, but it fell into the Pit and went off the road tilting it to one side. I have not seen nor expected a pit right-on-the already narrow roadside," the driver said.
When asked about the Rs 50 thousand likely expenses to bring it back on the road, the driver said he is just a driver and that (expenditure) will be taken care of by the company he is working with.
"Right now, my mobile phone is not working (broken), and I cannot contact anyone; I expect my company will come to know through media/online posts of the photos of the mishap today. The company will take care of removal expenses; I am just a driver, the driver said when further asked about damages to the paddy crop due to the mishap," he said.
Incidentally, a few farmers stating Friday mishap is the 7th in the last two months in the Gulem area informed neither the vehicle (owners) nor the government compensated them for the crop damages, and to add salt to the wound, the vehicle owners ask us to approach courts for redressal of our grievances. 'Courts take 10-12 years to give justice. On the one hand, government tells us to do farming, while due to negligence of PWD in widening highway road is creating us this type of problems', stated one of the local residents.
Another one said, 'Due to such mishaps, the only ones who are benefited are crane operators, who reportedly charge between 40-50 thousand rupees to retrieve the vehicles back on the road.', Informed a passing motorist.
Comment