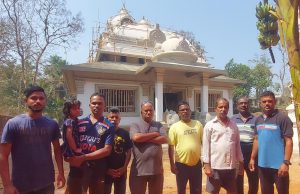 Goemkarponnd esk
VASCO: The 92nd Annual celebrations of the Damodar Devasthan trust began at Murdi Cansaulim on Saturday with Satyanarayan Mahapooja and other rituals.
The Damodar Devasthan Trust President Dasharath Naik informed reporters that many special programs were lined up that included Nataks, Muscical and various cultural shows for this year's celebrations.
"This is our 92nd annual celebration as the temple at Murdi Cansaulim is over a century old, and we have a lot of devotees that come from far and wide to participate in the programs. We will have a lot of social, cultural and musical programs and Mahaprasad until the 14th of February. We will then have the Mahashivratri Utsav on 18th February with many programs," said Naik.
"The present temple structure is over 50 years old, and we have already constructed a huge new temple in Cansualim. The new temple has a final finishing touch that is pending for lack of funds, but we will manage, and the new temple will be inaugurated soon. We have now launched lotteries for the temple and got a good response from the people, and the draw will be held on Gudi Padva. We request the people to patronise us and help us complete the new Damodar temple," said Naik
Another member Vishwesh Naik said that the annual celebration was an event that brought the entire village together.
"These celebrations are such that many of our relatives far and wide arrive at our homes for these programs. These relatives wait for these programs, and their children also participate in these events, strengthening the family bonds further. Besides this, the local villagers also get together to celebrate this gathering and help us be united during this time of the year," said Naik.
Comment