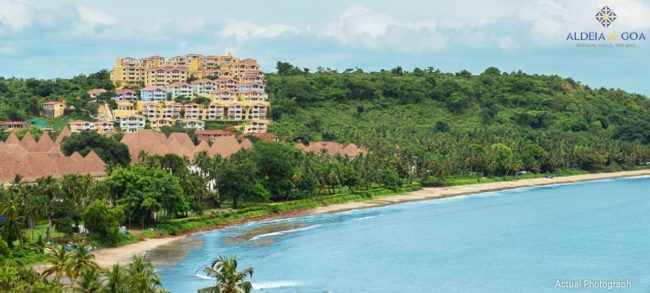 Goemakrponn desk
PANAJI: Hundreds of human lives are at stake, with petty accidents becoming the order of the day, at undisputedly the most expensive and prime real estate project in Goa – Aldeia De Goa at Bambolim.
It's residents and owners are counted among the who's who of India and have paid hefty premiums to own their dream homes.
The project was built and sold by the Dynamix Group in the early 2000s and boasted of one of Goa's best locations, scenery, amenities, and infrastructure.
However, all that changed a few years ago after the developer sold off all the plots and transferred the management and corpus fund to an ad-hoc committee made up of about ten members and led by chairman Mr Atul Bhasin.
In the last three years, the Aldeia De Goa complex has seen a sharp deterioration in the maintenance of the premises, with its infrastructure crumbling largely due to non-maintenance and lack of action by the committee, not to forget rampant corruption by certain vested interests. Many committee members themselves have done blatant TCP violations by making unauthorized changes to their homes while also allowing such gross TCP violations for their friends and relatives in Aldeia.
Not just maintenance, even the security of the place has fallen apart with several house break-ins and thefts. The complex that is home to India's rich and famous is largely unguarded at times, thanks to the lackadaisical attitude of the committee. Security equipment worth lacs of rupees is lying uninstalled for years while such incidents become everyday occurrences.
Recently, due to Cyclone Tauktae in mid-May and ensuing rains, a huge tree fell on one of the roads inside Aldeia de Goa and broke a boundary wall by the road, exposing residents to a dangerous 20 feet drop below. Since then, other than putting up a very flimsy and ineffective bamboo barrier, the ad-hoc Committee of Aldeia De Goa has not bothered to repair the broken wall in the last three months, which would have been done in no more than a day.
A lawyer and journalist, Franklyn Fernandes, whose elderly relatives live at Aldeia de Goa, says that the ad-hoc committee, due to its inaction, is putting at risk the lives of hundreds of residents of the complex.
In another instance, the ad-hoc committee did not clean the WTP for over a year, exposing the complex residents to a severe health hazard. It was done only after some residents pointed out the glaring error and forced the ad-hoc committee to do so with the threat of legal action.
There are several other civic lapses. Lack of garbage cans in common areas and crumbling drain covers is concerning, allege residents.
Also, recently, the ad-hoc committee responded to people driving at high speed inside Aldeia by installing unscientific speed breakers without warning signage boards. These speed breakers are fast becoming back-breakers now for anyone driving in Aldeia and must be replaced by scientific speed-breakers with proper signage, suggest some residents.
A few residents have sent legal notices to the ad-hoc management committee of Aldeia De Goa, but to no avail, as the thick-skinned ad-hoc committee members do not value human life and have scant respect for the rule of law. The only option for the residents now is probably to knock on the concerned courts' doors or take the law into their own hands.
A social forum Goa Alert Citizens Forum (GACF), has complained to the North Goa Collector and the State DGP regarding the risk to human life. The GACF has also informed the TCP department of gross violations (major and minor alterations and modification to originally approved structures) of FSI rules by the committee members and their friends.
Attempts to contact Chairman Atul Bhasin and other ad hoc committee members for comment and inputs proved futile.
Several people paid a hefty premium to stay in Aldeia de Goa and lead a dream life. However, that dream now seems to have turned into a nightmare for all the residents.
Comment