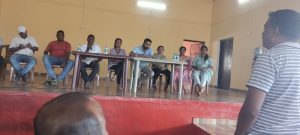 Villagers get aggressive over non-implementation, not resolving demands/grievances
Say forced to repeat same greivances at every gramsabha.
Goemkarponn desk
CANACONA: Members while congratulating the panchayat for executing a few long pending developmental works, also cornered the panchayat body for neither resolving nor implementing several of their complaints/grievances and compelling them to raise the same issues repeatedly in every gramsabha for the past One and Half years.
Incidentally, it was day of complaints and only complaints as members present kept on raking up, infact repeating their suggestions,/grievances/complaints at the Sundays Gramsabha of Agonda village panchayat.
The insufficient water-supply, Pumping of Water from a heavily infested unprotected/uncovered Well and Supply of Untreated Water, Non-Use and Misuse of Chlorine provided to treat the Water by PWD (Water-Supply) staff, Erratic Power Supply (Electricity), the Potholed Roads, demands for Speed Breakers/ Marking of existing Speed Breakers, Clearances of Roadside Bushes and Trees blocking motorists-sights, Lack of Streetlights/Road illumination, Garbage, Beach-Shacks, Non-Clearances of Blocked Nullahs/Drainages, Stray Cattles, An incomplete Newly constructed Bridge/Culvert, Dumping of Garbage on roadsides, undisciplined Shack operators on beachcoast, were a few of the many issues raised by villagers at the Sunday's Gram Sabha.
Sarpanch Preettal Fernandes alongwith the Panchayat Secretary Amol Naikgaunkar responded quickly to the various +demands put forth by the people, even as the Gramsabha was attended by all the panch members in the 7-member Agonda panchayat including Dy. Sarpanch Canisha Fernandes, besides an Observer deputed by Block Development Officer watched the proceedings. Ex-Sarpanch/panch Fatima Rodrigues, panch members Karuna Phaldessai, Nilesh Pagui, Ramnath Velip and John Fernandes were present.
Ganpat Desai, Honorat Fernandes, Kiran Naikgaonkar, Kisan Desai, Nandkishore Phaldessai, Nazy Fernandes, Marcus Fernandes, Pandurang Sawant, Maria Furtado, Vinod Phaldessai, Bagdo Velip, were amongst the several members who raised queries and expressed grievances while taking part in discussion.
'We are getting red-colour contaminated water supply, as the water is not only pumped from an unprotected Well (Deva-tali) at Mudkud, where the water is heavily infested, nor this water is treated before supplied to the people', complained Ganpat Dessai,
Marcus Fernandes said, 'not only this Well should be protected/covered, and water is treated and the Tanks where this water is stored required to be cleaned, but also a suitable Filter is required to pump water from this mudkud river.
Sarpanch along with the Secretary listed out various works undertaken and completed and some works still going on in the village.
Kiran Naikgaunkar, stating he has repeatedly pleaded for Speed Breakers/rumblers and proper Illumination of main village road at Sawantwada, sought to know whether these works are not done only because he had highlighted them, when Sarpanch assured to do it. "We congratulate the Sarpanch and her team for doing so much work in the village. Since the last one and half year I have been demanding this in every gramsabha and assurances are given and even a death has occurred at the place, are you waiting for another accident to claim more lives? Or is it that these works are not done only because I have demanded them?!?', asked Kiran when.
Kisan Dessai made a demand to cut roadside bushes and even tree which are blocking the motorists road-sight, so that the road becomes more visible.
When queries were raised by frequent failure of power supply, Sarpanch assured this problem will be history once the underground power cabling is carried out in Agonda-Khola villages. t covered water tanks, (Well), shade covered, Devatolem/Well…..,
Vinod Phaldessai asked the panchayat to either complete the incompletely left newly constructed Dhavalkhazan bridge (also known as Borim bridge), or close it completely for traffic, as both temporarily mud-filled approach-side have become very dangerous and many people two wheelers skids, 4-wheeler vehicles gets their body's damaged while using the same.
Nandkishore Phaldessai starting PWD supplied Chlorine to treat water pumped from Mudkud river is misused by people handling it, demanded proper treatment of water before supplied to people, carry out proper illumination/highlighting of the Speed-breaker at Parvem with color/, light's to avoid mishaps regularly taking place.
When Nazy Fernandes raised stray cattles creating lots of hurdles to people, and are reasons for several mishaps, and demanded to know if nothing can be done to control the Bovines left to Stray by Owners, Secretary Amol Naikgaunkar informed that once an upcoming Gaushala at Khotigao becomes a reality, the stray cattles will be picked up and sent to Gaushala.
Several members stating most of the Shacks operated by non-residents on village coast are responsible for dumping of garbage broadsides, demanded strict issuances of Shack –licences with proper guidelines and strictures thereof.
Sarpanch Preettal Fernandes asked for people cooperating in maintaining the village in clean and green, and not to do anything which disturbs the village developments, ; some People on purpose destroy Convex mirrors especially fitted at certain joints to enable smooth drivers/rides, some people on purpose dumps bags of garbage bags on roads, and inspite of having a door-to-door collections even some regularly thrown garbage bags on roadside drains/nullahs. If this is being done to take revenge on any one, please don't , it affects the society in General and not only the elected panch member. Don't take such revenge on panchas on developmental works.'
Members also demanded proper Parking discipline at Panchayat Ghar, raised the Dumane Garbage plant imbroglio, questioned the panchayat on proper usage of vehicles particularly Garbage collection vehicles, and also called for holding a Blood Donation Camp so that blood can be made available to any of the villagers in dire circumstances/medical needs.
Comment