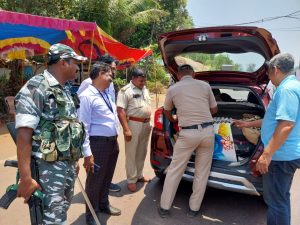 Goemkarponn desk CANACONA: Checking at the Polem-Majali checkpost of the border between Goa and Karnataka has been intensified following the announcement of the date of the Karnataka Assembly election to be held on 10th My'2023.
While Goa Excise at Polem check-post is on strict surveillance of vehicles going to Karnataka, especially for liquor consignments, the Excise sleuths, Police and CRPF personnel, besides Central government deputed Election Officers on –duty checks every vehicle arriving at Majali checkpost on after crossing Goa's border Polem checkpost.
Incidentally, with Karnataka officials stopping all the vehicles, a massive line of vehicles gets line-up in the no-man land(neutral land) between Goa and Karnataka, often extending beyond the barricaded Goa's side.
The sleuths are keeping a close tab on transportation of liquor, Cash/Currency, and also any articles/items, including sarees in large quantity, which could be possibly used for distribution to lure voters into voting for particular candidates contesting the assembly election on the 10th May.
Incidentally, while Karnataka sleuths often get a tough time tackling the situation, where senior citizens and others get easily aggrieved for long halts during their long journey, they are often also getting the support of the people. One officer manning the border said, 'We have ordered, and we don't simply stop and search vehicles, but that's the need in these situations. Often some easily getting aggrieved senior citizens enters into an argument, but we also get full support and cooperation to carry on with our legitimate task'.
Incidentally, one of the locals informed there is always strict surveillance adhered to by Karnataka officials every time there is an election on their side, and the officials from our side take a lesson or two, especially when ther is an election in our state.
Comment