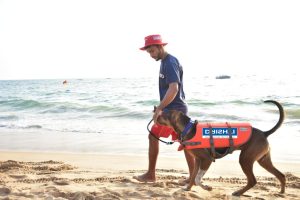 Goemkarponn desk
PANAJI: AI-powered robots, specially trained rescue dogs and more than fifty lifesavers will keep vigil over triathletes participating in the IRONMAN 70.3 India, when they dive into the Arabian sea off Miramar beach in Goa as part of the first leg of the endurance race on October 8 (Sunday).
The three-tier safety back up for the opening leg of India's biggest endurance race with participants from 30 countries across the globe, has been provided by Drishti Marine, a state government appointed lifesaving agency, which is tasked with preventing drowning and tackling other emergencies along the state's coastline.
According to Navin Awasthi, chief executive officer of Drishti Marine, a 55-strong lifesaving force will be deployed for safety of the participants in the IRONMAN 70.3 India race, along with five jetskis, surfboards, two jeeps and two boats which will be on standby for emergencies. Two canines from the lifesaving agency's 'Paw Squad', who are highly trained in beach safety will also be posted at Miramar when the first leg of the race begins, with a 1.9 km swim in the waters off the beach.
Drishti Marine will also deploy its state-of-the-art technology, AURUS and TRITON for the safety of the athletes. AURUS is a self-driving robot developed by Drishti Marine, while TRITON's onboard AI monitors non-swim zones, identifies threats and assists lifesavers in preventing mishaps. Together, AURUS and TRITON provide comprehensive beach safety coverage.
"We are proud to provide the necessary safety support for the third time running to the prestigious triathlon which brings in participants from all over India and the world. Our lifesavers are well equipped to handle any emergency situations. In addition, we will be deploying our AI bots, AURUS and TRITON for the first time. Two trained dogs from our Paw Squad will also be posted at Miramar beach for comprehensive support," Awasthi said.
Canines in the Paw Squad are outfitted with a harness and rescue tube and the dogs are trained to spot a victim in distress in the water, swim to the victim, enable him/her to grab the rescue tube and swim back to shore with the victim in tow. The canines are undergoing 26 months of rigorous training at a state-of-the-art dog training facility set up by Drishti Marine at its Lifesaver Training Centre in Sinquerim.
IRONMAN 70.3 INDIA is a triathlon endurance event with the 70.3 referring to the total distance in miles which is 113 km covered in the race, consisting of 1.9 km (1.2 mile) swim, a 90 km (56-mile) cycling ride, and a 21.1 km (13.1-mile) run. The race has attracted 50 plus countries over the 3 editions.
Comment