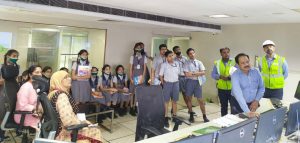 As a part of celebration to commemorate World Pollution Prevention Week 2022, Adani Mornugao Port terminal Pvt Limited (AMPTPL )
organized a site visit for students from nearby Shree Susenashram Vidhyalay, Jetty Mormugao.
Students and teachers reached the AMPTPL premises and were welcomed by
the company officials.
They were then taken to jetty in proper PPEs to witness fully mechanized cargo handling
operations, including automatic cranes, mobile hoppers with water mist arrangement,
covered conveyor belts to ensure zero fugitive emission.
Students were explained about the Central Control Room operations, from where only one person operates the full berth using most advanced equipment.
This acquainted young minds with best and state of art systems like – Automatic Wagon
Loading and Tarpaulin covering station, Automatic truck loading system, Sprinkler systems,
Wind screens, Dry Fog Dust Suppression (DFDS) systems, Mist Cannons, Concrete roads,
Dump ponds with baffle walls, Efficient waste management including Organic Waste
Convertor, Road sweeping machine, Continuous Ambient Air Quality Monitoring Stations
(CAAQMS), Anemometers – for effective operation control during strong winds.
Finally, a presentation was made to the students and teachers to explain in detail the best
practices adopted by industry to ensure efficient and sustainable operations.
Parting gifts were given to the students and teachers.
Students and teachers found the visit very informative as they were introduced to the
industry from within and they appreciated the efforts of industry while contributing to sustainable
growth of the country.
Comment