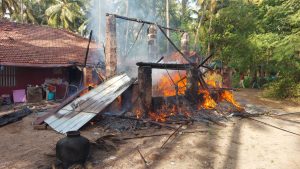 Goemkarponn desk
PANAJI: An age-old Bhatti-Hut (Toddy-Distillery) went up in flames at Palolem on Wednesday evening.
The family staying in their house noticed the Bhati hut, which they used to cook food and warm water for baths and stored with firewood in flames, and alerted the fire services for help. Incidentally, while the fire raged on high above, an overhead water tank placed over a stand nearby to the Bhatti – Hut got burnt due to the fire flames and came tumbling down, dousing the fire to some extent, but the thatched leaves Bhatti, was almost reduced to ashes, by the time fire personnel arrived on the scene. Firewood, some old Liquor Pots (Karbe), Copper-Bhaan, and some plastic items, including buckets and utensils stored in the hut, were all burnt to ashes.
Upon receipt of the call at about 5 pm, the Fire Services personnel rushed immediately to attend to the emergency call only to realise there was no access for the Fire Tender to reach the fire – spot.
The fire personnel using the long water pipe from Fire-tender doused the fire but couldn't take their vehicle to the spot where it was required. However, the residential house had a close shave belonging to the family of Dumentina Goes, whose Bhatti is reduced to ashes, which has been essentially saved with the timely intervention of fire personnel from the fire.
Local councillor Simon Rebello was almost the first to reach the site and tried to make way for Fire personnel to reach their water pipe to the affected area.
According to fire services, Goes(83) had to suffer a loss of over 1.05 lakh of rupees, while their timely intervention has helped to save another two lakhs of rupees.
Supervised by Station Fire Officer Ravindranath Pednekar, leading Firefighter S K Dessai, Driver – Cum-Operator A M Gaoankar, Fire-Fighrers Paresh Bhagat, V S Velip, Fire Recruits V V Naik and Sudesh took part in the operations.
Ruling out sabotage or anything, Councillor Rebello informed the fire could be accidentally either caused due to overlapping live Coals left behind or due to short-circuit. The family used the Bhat -hut to cook food, particularly preparing rice on fire-woods, Warm bathing water, and also had electrical connections.
Comment