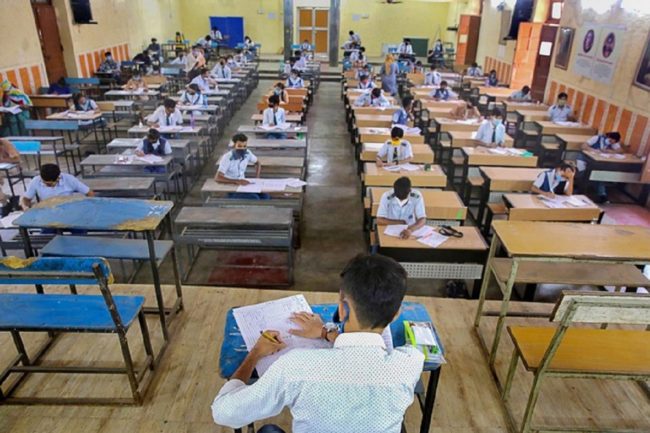 Goemkarponn Desk
PANAJI: The rising number of cases reported among the students and teaching staff of schools has created an alarming situation in Goa.
Parents of students of city schools are in a tizzy as many schools are conducting offline examinations even as there has been a spurt in Covid cases.
Some schools have responded positively to the parents' concern over the growing cases of coronavirus and have decided to hold the exams online however some schools have been conducting offline exams.
Now this has created ripples across the students and parents with some of them not in favour of answering exams offline as Goa is slowly gradually moving towards the second wave of COVID.
With State witnessing above 100 daily coronavirus cases, the parent teachers associations have been pressing for online mode of examination across all schools.
As per the Education department, the final examinations have to be completed before May 8.
The State government had permitted students of class I to VIII to answer the final examination for the academic year 2020-21 from home.
Director of Education (DoE) director Santosh Amonkar, in the circular, had said that students of classes I to VIII are permitted to answer the exams from home and that the exams for Class III to VIII will be in written format.
Nearly 80 percent of parents of students are not prepared to send their children to school amid the COVID-19 pandemic in view of answering exams.
Some parents are ready to skip a school year, but not ready to send their children to school during the Covid-19 pandemic.
"Many schools are adamant about holding offline exams. This is unreasonable as there has been a steep rise in Covid positive cases across the city and country on the whole." said a parent on the basis of anonymity
However, some people from the educational sector are worried that online examinations will not give them a clear idea of the progress students have made and whether they have grasped all the concepts. Concerns have been raised regarding honesty and integrity during online examinations.
When tried to contact Amonkar, he remained unavailable for the comments.
The schools will go for summer break from May 10 to June 19. With rising cases and if situation continue, one will have to wait and see whether the Academic year 2021-22,too would be via a online mode.
Although incidences of children testing positive in schools are less in Goa, parents are quite worried seeing the rising number of students contracting virus in nearby places.
"The majority of parents are worried about the use of transportation due to the ongoing health crisis. They are worried about maintaining hygiene as many students come together," said an other
"On the basis of the continuous appeal of parents and children, we have requested the Delhi government to conduct online exams of children of classes" said another parent.
In November end, Goa had permitted all schools in the state to start offline classes, at institute premises for students of classes 10 and 12. These offline classes, though authorised by a strict SOP, are still centres that vulnerable to the susceptibility of the virus, as the teachers still continue to take offline classes from the school campus. As feared, various schools in the coastal state faced a shut down after teachers started testing positive for COVID-19.
A school in the Ponda sub-district in South Goa had to be shut down after a Class 10 teacher tested positive. Similar cases of infection were reported in the Cujira education complex near Panaji, as well as another school in Curchorem town in South Goa. The state has thus decided to isolate infected teachers, to ensure the safety of the attending students and other staff members.
Comment