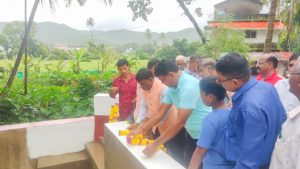 Goemkarponn Desk
CANACONA: A beautified Ganesh Immersion Site is inaugurated at Agonda village.
As the Ganesh Chatturthi is fast approaching, the work at the Immersion Site at Parvem ward near the Borim-bridge is completed on a war-footing.
Besides , construction of the steps, a platform-stand is also constructed on the river bank to enable conduct of Pooja and other rituals infront of the ganesh idols brought for immersion.
Interestingly, the beautification of the Immersion site I nthe ward of Parvem represented by present Sarpanch Preetal Fernandes is one of the six works under taken by Agonda panchayat.
Interestingly, six of the seven panchas were present for the inaugurated that place at the hands of Speaker Ramesh Tawadkar. Karun Phaldessai, John Fernandes, Fatima Rodrigues, Nilesh Pagi, and Dy Sarpanch Canisha Fernandes alongwith sarpanch Preetal Fernandes were present.
Former Parvem panch Agnelo Fernandes, Canacona BJP Mandal President Vishal Desai, BJP (South) VP Mahesh Naik, Agonda BMC Chairman Shaba Dessai, social activist Suraj Naikgaonkar were also present.
Agonda Biodiversity Management Committee also organised a plantation drive of various seedlings along the beach coast of Agonda beach for preventing Soil erosion and also as part of beautification of beach side area. Sarpanch Preetal Fernandes , Ex Sarpanch Fatima Rodrigues and other Panch members were also present. BMC Chairman Shaba Naik Gaonker, Members Prakash Faldessai, Vinod Phal Dessai, Suraj Naik Gaonkar, Sanjeet Naik Gaonker were also present on the occasion. Plantation of 40 nos seedlings of Casuarina eqvisetifolia (Sura ) 20 nos of Baniyan , 6 nos Almond s and 10 nos of Kokam seedlings have been planted at the Agonda beach Val side.
A two days Chaturthi bazaar is organised at Karashirmoll Agonda on Saturday.. This type of Bazaar is held for the first time in Agonda and the initiative is taken keeping in mind the people's requirement and to give better facilities for the people during festival season', Sarpanch Preetal Fernandes said. Lots of people were seen attending the 2-days Chaturthi bazaar , which will continue on Sunday also.
'Sarpanch appealed to the people especially the residents bringing Ganesh idols and worshiping at their home to make purchases of this festival needs for Ganesh celebrations from this bazaar to encourage the local growers.
In yet another significant milestone one more Ganpati Visarjan place, complete with meticulously crafted footsteps and a sturdy railing, at Pansulem , Canacona municipal area is inaugurated.
Comment