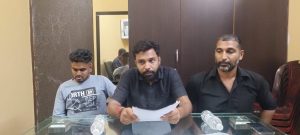 *Speaker's OSD files defamation complaint against 2 local youths for whatsapp posts/forwards on Tawadkar
Goemkarponn Desk
CANACONA: Stating threats of police action will not cow down the Canacona youths from speaking the truth and making awareness on illegality happening infront of their eyes, GFP leader Vikas Bhagat questioned Canacona MLA/Speaker if he is trying to challenge Constitution by curbing Freedom of Speech.
Addressing a press –meet, Bhagat paraded two Canacona youth's against whom one Rajendra Borkar, an OSD with Speaker Ramesh Tawadkar filed a defamation complaint with Canacona Police allegedly for some random WhatsApp posts/forwards. The two youths Llyod Godinho, an artists and environmentalist and Chetan Bhandari (active on social platform) after appearing before Canacona PI have now received a show-cause notice for appearance before Canacona Dy. Collector on 4th Jul'2023.
If the people responsible to make and protect the laws are seen themselves openly brakes the law, and if people like us raises our voice, than what mistake we did? And if these people tries to stop us by putting pressure, than how much do we sustain? I'll provide two examples where the GLA Speaker broke the law which is in full of public domain:
'We are living in a democratic country where freedom of speech is guaranteed by our constitution. Can't we talk and make awareness on the evils we see and the illegality we witness in the society? Our Canacona MLA occupying the post of Speaker should be a guardian and protector of law, but Ramesh Tawadkar is accused of Wood Scam (which is confirmed that at his direction illegally brought stolen wood from government forests at the government-owned carpentry unit for processing (complaints on this have been submitted right from Prime Minister to the lowest rung authorities, but to no avail)?
And cheating of people by Inaugurating/Launching NH-66 Road widening works at Gulem-Karmalghat before obtaining Forest Clearance.(speaker informed us that 3.82 cr works are sanctioned , inaugurated but Forests stopped the works, and when we asked we are told that no forest clearance is obtained for the works, and how this works were allotted/tendered/ started without Forests NOC, than applications were made and forest clearance was obtained, but one thing is confirmed, you were illegally doing the works, when you people are breaking the laws whom to complain and ask?' Bhagat
Speaking further Bhagat said while Speaker is involved in such illegalities and someone highlights the same, he is filing complaints against these youths, why? What bad they did? To pressure them not speak the truth? Do whatever number of complaints against us, we are not worried and we will not worry. Now 98 more youths are coming up, we will see that 100 youths works for us on social media. Freedom of speech is given to us by our constitution, and we will make use of it. We will face this complaint legally, we will represent with dy. Collector on this defamation case'.
' It is on these counts that some meme's on Tawadkar received by our youths have been forwarded on WhatsApp. What is wrong in it. Don't we have freedom of speech , and we have no right to share what we feel truth, and bring public awareness? We will do what a responsible opposition have to do in the next 4 years, you can't and won't succeed in stopping us.'
'We will not be cowed down by lodging police compplaints, we will continue to raise our voice and bring public awareness on illegalities and will call whatever wrong is wrong. We are not afraid of defamation cases. Infact, as a responsible opposition we will continue to criticize whatever is wrong and illegal. Tawadkar may have tried to figure out and corner only two youths, infact, to give a constructive opposition, we are building up a team of 100 youths, 98 more youths will be posting/forwarding posts to bring public awareness.
Godhinho informed that as an Artist and Social/Environmentalist and a local is disturbed on seeing so much of environment destruction in Canacona, I have my own views and mostly I try to express them publicly through my creative posts and forwards on social media. If this hurts someone politically, and someone is trying to stop me, and as an artist it will definitely affect my creativity. As for the post to which I disposed before Canacona police is a forwarded meme, which I received on my mobile.
Comment