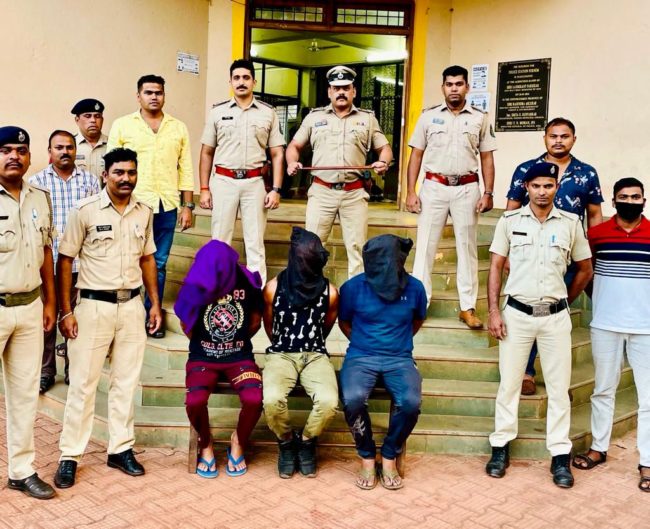 Goemkarponn desk
PERNEM: In a narcotics raid by Pernem Police, three persons were arrested along with drugs worth Rs 3,45,000.
As per Pernem PI Jivba Dalvi, information was received that on 25/11/21, three persons living in a rented house near Khind Morjim were involved in illegal drugs dealings. Accordingly, the discreet watch was maintained through physical and technical surveillance and the exact room if the accused persons were traced.
Accordingly, PI Jivba Dalvi formed his team consisting of PSI Praful Giri, PSI Vivek Haldankar, PC Mahesh Naik, PC Vinod Pednekar, PC Swapnil Shirodkar, PC Vishnu, PC Satish to conduct the raid.
Further police team conducted a surprise raid, and during the raid, various types of drugs were found in possession of the accused persons.
The accused persons are identified as 1) Shabab Iliyas Khan. Age 39 yrs, r/o Venkateswara layout Bangalore.
2) Imran Noor Mohammad. Age 36 yrs, r/o Salempur northeast Delhi and 3) Niyazuddin Kamaluddin age 29 yrs, r/o 116 metro layout Bangalore.
The narcotic drugs found during the raid are 1. Ecstacy 33 tablets w/ Rs 1,50,000/- , 2. MDMA 14 packets w/ Rs 1,90,000/- and 3. Ganja. All seized drugs are worth rupees Rs. 3,45,000/- in the international market.
Presently all accused persons are arrested under section 20(b)(ii)(A), 22(C) r/w 29 NDPS act and are in Police Custody. Police are finding out more details regarding the accused persons.
Further investigation is in progress under the supervision of Shobhit Sexsena SP North and SDPO Shri Salim Shaikh.
Comment