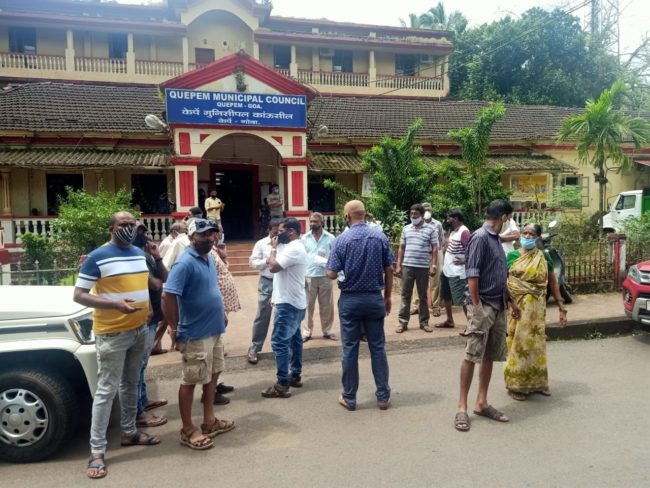 Goemkarponn desk
PANAJI:
In July, the Goa cabinet approved a scheme for providing one-time financial assistance of Rs 5,000 to workers from marginalised and unorganised sectors who have lost their livelihood due to the COVID-19 pandemic.
Chief Minister Pramod Sawant told reporters that the scheme will cover 25,000-30,000 people whose livelihood has been affected by the pandemic. "A one-time financial assistance of Rs 5,000 would be paid to them after they fill a simple form," he said.
The scheme will cover auto-rickshaw drivers, motorcycle pilots, taxi operators, employees under Non-Muster Roll registered with various panchayats, and those listed under traditional occupations of the state social welfare department, he said.
The chief minister said that the state government will also ask for a list of such beneficiaries from various associations covering the unorganised and marginalised people. Till Tuesday, Goa reported a total of 1,67,823 COVID-19 cases and 3,079 deaths due to the disease.
The scheme only for BJP workers?
While every unorganised sector has been hit by the COVID19 in the State, the Bharatiya Janata Party (BJP) seems to be using the same eyeing elections.
Reports from across the State are that though the scheme is being implemented by the Social Welfare Department, there are no forms available.
The complaints are coming from across states in Mayem, Bicholim, Mapusa, Saligao, Cumbharjua, Ponda, Canacona, Margao etc.
People say, "if they are not supporters of BJP, they are not getting teh forms."
"Is the government giving us financial support or for BJP supporters. They should tell first that the forms are only for BJP supporters and others should not apply. This is petty politics," a Saligao local said on condition of anonymity.
One Sushant Desai of Quepem complained that they somehow got the form from somewhere, but the authorities do not accept it unless signed by a representative.
"I went to Panaji and Margao offices of Social Welfare department and did not find any form. Finally, I was told to go to a BJP councillor or MLA and would get a form," he said.
He said that when he came to submit the form, teh Chief Officer of Municipality refused to accept the document.
"He said the form has to be signed by a councillor. Is this some kind of a politics?" he asked.
Premanand Naik, Quepem Rickshaw and Motorcycle Pilot Association General Secretary, said, "The reason we are here today is that we want to question the Chief officer of Quepem municipality as to why they did not sign one of their member's form yesterday."
"We went to the Social Welfare office at Margao and Panaji, but we didn't get the form. Later we went to the MLA's office, but we didn't get it; then we went to Elton Di'Costa's office, where I got the form," he said.
Quepem Chief Officer Madhu Narvekar said that "when the member asked I outside my office yesterday, and on that time they just told me to sign, but I was out of the municipality. There is a bit. misunderstanding, I told him I do not know the procedure."
When contacted, Dy Chief Minister Babu Kavlekar said that the Opposition is unnecessarily making an issue out of nothing.
"The Opposition has no issues. All the forms are over, and we have asked for more, which will come soon," he said.
On CO not accepting the form, he said, "I will look into the matter."
Comment