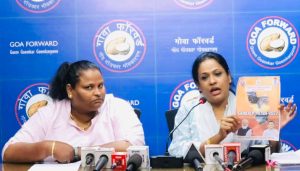 Goemkarponn desk
PANAJI: Demanding to know the status of the free cylinder scheme announced by the BJP during the 2022 Assembly elections, Goa Forward Party Vice President Advocate Ashma, along with GFP leader and MMC councillor Nimisha Faleiro addressed a press conference at Party Headquarters where they presented government documents showing the scheme had been scrapped even before it could complete a year.
BJP released their manifesto called Sankalp Patra on 8th February 2022. The first promise in the manifesto was to provide three free cylinders to every household in Goa to release the burden on the homemakers of the state. Since there was no news for more than 6 months, Goa Forward Party applied for information about the scheme under RTI Act.
The reply revealed that the file was put up under RDA on 14th June 2022 as per the budget speech of the Chief Minister. The file was put up before the CM in June 2022.
"It took four months for the CM to approve the file, after which it was passed to the finance department. The file notings show that the Additional Secretary, Finance Department, noted that the government had proposed this scheme during the Ukraine war when the fuel price had skyrocketed and was further expected to go higher. However, the situation has recovered drastically, and the crude price has decreased from 120 USD to 80 USD. ", said Adv Ashma.
The Ukraine war started on 22nd February 2022, whereas the manifesto was released on 8th February 2022. "Did the BJP launch the scheme knowing that in future Russia would go to war with Ukraine" she questioned.
She concluded from the notings that the BJP never wanted to implement the scheme. "Women are soft targets, and the BJP wanted to use this promise to target women and take their votes. We want to ask CM to clarify whether he intends to implement this scheme and give free cylinders to the women in Goa.", she demanded.
Criticizing the Chief Minister for acting immediately to stop an inauguration of a parking lot at the last minute, Nimisha Falerio questioned, "Why can't the CM immediately inaugurate the free cylinder scheme? Where are the Mahila BJP who had come on the streets aggressively during the 2019 Panjim elections? Are they quite because the women of the Mahila Mandal of the BJP get these cylinders under a special scheme? "
Adv. Ashma said that people are still waiting for the scheme; hence we want to inform them that they have been cheated by the BJP. "They have to be named and shamed for this fraud," she said.
Comment